This season in the NBA, slightly more than one in four shots taken is a three.
Even though you know that's the way the league is going, the number is kind of stunning. And yes, it is a record.
It's also just the start.
The NBA stole the three point line from the ABA and introduced it in 1979-80 — the year Magic Johnson entered the league — as a way to both add some excitement to the game and space the floor out a little. It took time for guys to learn to hit it — with reason, there was no coach in 1978 who would have told you taking a 24 footer for the same number of points you can get for a four footer was a good shot. Take it and you got a seat on the bench next to Ernie DiGregorio. Guys hadn't practiced the shot and in the first season it was introduced players shot 28 percent from three.
That changed and this season guys are knocking down 37 percent and because guys can hit it — because it can win games — coaches are encouraging them to take the shot. A lot. Analytics have made hot what is kind of obvious when you think about it — take your shots close to the basket because you are more likely to make them, and if you can't get close get a three so you can get the extra point. The trend of increasing three point attempts is older than the analytic movement in the NBA it's been going on for decades. Check out this chart of average threes taken per game, per team.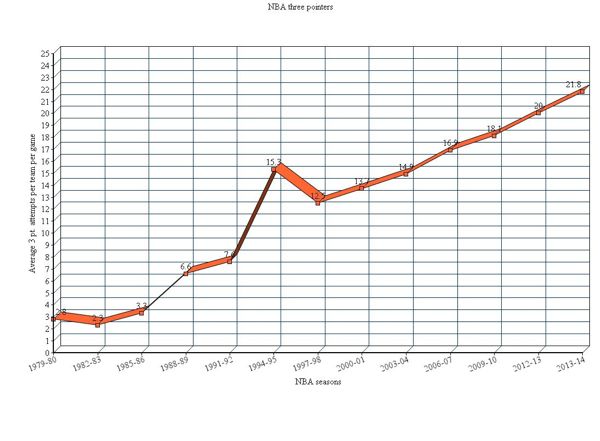 The number of threes has been spiking in recent years and that number is going to continue to climb.
This season about 41 percent of shots happen within 8 feet of the basket (teams are shooting 55 percent), and 25 percent from three. That leaves 34 percent in the midrange — those are the shots the analytics people are pushing to reduce. Look at what Rockets GM and analytics poster boy Daryl Morey is doing with the Rockets' D-League franchise, that's an extreme but you get the idea.
During Sunday's Miami Heat win over Houston, former coach turned analyst Jeff Van Gundy went on a little "the midrange shot matters" rant. He bemoaned the analytics movement pushing shooters away from those shots.
You know what's a good shot? One you make consistently. Nobody, analytics minded or not, would tell Dirk Nowitzki to stop shooting from the midrange — he makes them at a 49.8 percent clip. Courtney Lee hits 51 percent. Stephen Curry 48.2 percent, Serge Ibaka hits 48.5 percent. There are others, guys who if they get to certain spots will knock it down (Tim Duncan's 15-foot bank, for example).
But that is not the norm. John Wall has taken 434 midrange shots and hit 36.2 percent. Bradley Beal 426 shots and hit 36.6 percent. And on it goes, most guys do not high a high enough percentage to make midrange jumpers a good choice — the league average is below 40 percent. You especially don't want to take that shot if it is contested.
If you hit 37 percent of your threes and you get an extra point for those, it's like hitting 55.5 percent of your midrange shots (that's the idea behind eFG%, to count that extra point).
Which is why the trend of more threes will continue (particularly corner threes, a little shorter with a much higher make percentage).
It's not complex algorithms changing the game, it's just following logic — to win games you need to score the most points, so take the best shots. Get to the rim if you can. But if not, the three is a better choice than the midrange jumper.