The Washington Wizards have gone 5-3 with Drew Gooden, who's played on a couple 10-day contracts. Considering Nene has missed that entire span, that's pretty impressive. Prior, the Wizards were 60-61 with Nene and 8-34 without him since trading for him.
Obviously, Gooden isn't the sole reason Washington has kept winning without its anchor. But he's certainly helped, averaging 8.1 points and 4.6 points in 14.6 minutes per game. He even had 21 points and nine rebounds in his last game, a win over the Nets on Saturday.
So, the Wizards might want to hang onto him. And they will.
J. Michael of CSNWashington.com reported this would be the case days ago.
Marc J. Spears of Yahoo Sports confirmed it:
The Wizards are expected to sign forward Drew Gooden for the rest of the season, a source told Yahoo Sports.
The Wizards' overall efficiency numbers with Gooden are on the court are solid (109.5/108.0/+1.4), but they've found one lineup that particularly takes advantage of his skills.
Gooden has played more than 40 percent of his minutes with the same foursome – Andre Miller, Bradley Beal, Martell Webster and Al Harrington. Holy shooting, Batman!
That unit has made half its 3-pointers (9-of-18), aided in part by Gooden's floor spacing. With Washington, he's made 16-of-25 of shots outside 16 feet (64 percent), including 3-of-6 3-pointers (50 percent).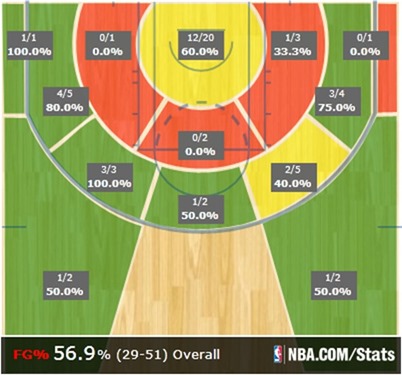 Overall, the lineup has an offensive rating of 125.3 in 47 minutes. No Washington lineup that has played at least 20 minutes bests that efficiency.
And with a reasonable defensive rating of 106.1, the Miller-Beal-Webster-Harrington-Gooden lineup has a net rating of +19.2 – best among the Wizards' 10 most-used five-man units.
Neither that lineup-wide production nor Gooden's shooting is likely sustainable over larger samples, but both have shown enough to concern opponents. For a player on 10-day contracts, that's plenty.
Gooden deserves to stick with Washington the rest of the season, and he will.