At a panel during the Sloan Conference, Golden State Warriors general manager Bob Myers described the arduous process of acquiring Andre Iguodala.
The Warriors had no cap room last summer, so Myers faced a two-sided task to land the free agent. Not only did he negotiate with Iguodala, Myers discussed trades with other teams to unload salary. It was exhausting, and Myers nearly gave up. But at the last moment, the Utah Jazz agreed to accept the salary of Richard Jefferson, Andris Biedrins and Brandon Rush, clearing the way for Golden State to get Iguodala.
Also on that panel: Houston Rockets general manager Daryl Morey.
Not that the creative Morey necessarily needed any tips, but if he were seeking inspiration, he found it.
Marc Berman of the New York Post:
According to a league source, the Rockets will make a bid for Carmelo Anthony this summer, even though they probably won't have cap space and would have to orchestrate a creative sign-and-trade. The source said Houston asked the Knicks about Anthony before February's trade deadline.
Announcement: Pro Basketball Talk's partner FanDuel is hosting a one-day $90,000 Fantasy Basketball league for Friday night's games. It's $25 to join and first prize is $10,000. Starts at 7pm ET on Friday. Here's the FanDuel link.
Carmelo Anthony would certainly form a heck of a big three with Dwight Howard and James Harden, especially if Chandler Parsons and Patrick Beverley are filling the gaps. That is absolutely a championship-caliber team.
But acquiring Melo won't be easy.
First, the Rockets would have to convince him to leave New York and take a pay cut. Here's the maximum amount Melo could earn on his next contract if he re-signs with the Knicks or signs elsewhere: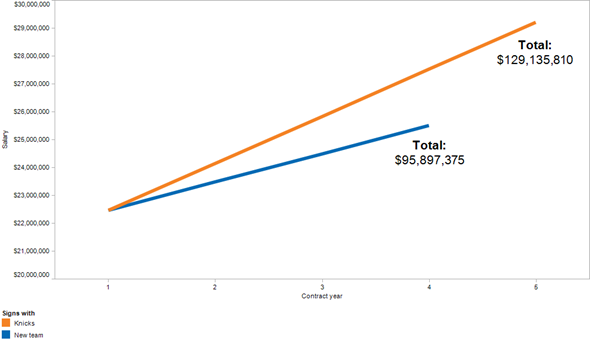 Houston would almost certainly have to arrange a sign-and-trade with the Knicks to offer Melo his new-team max. Even if the Rockets cleared their roster of every player besides Howard and Harden, they still wouldn't have enough cap space to sign Melo outright to his non-Knicks max (assuming a salary cap of $62.1 million).
Unless Melo is willing to surrender nearly $7 million during the next four years – and the Rockets are willing to dump all their valuable players beyond Howard and Harden –  a sign-and-trade is the only solution.
The Rockets could trade Jeremy Lin, Omer Asik and Ronnie Brewer's unguaranteed contract to New York, and Anthony would get the full amount possible from from a non-Knicks team.
But how does Houston make that trade base palatable for New York?
Lin and Asik would likely be integral to any such deal. Though their cap hits are each $8,374,646 next season, their actual salaries are $14,898,938. Even the free-spending Knicks might pause at paying role players so much.
New York would certainly push for Chandler Parsons, but he's pretty valuable in his own right, maybe too valuable to include in a sign-and-trade for Melo. Terrence Jones could be a good compromise sweetener, and Patrick Beverley is also a valuable player, though his inclusion would leave Houston shorthanded at point guard.
The Rockets also have all their own upcoming first-round picks and assortment of future second rounders to grease any deal.
There are plenty of obstacles to clear for Houston to land Melo, but as Morey certainly knows, it's at least possible.