The Oklahoma City Thunder sent a message to the Houston Rockets. The Golden State Warriors overwhelmed the Dallas Mavericks. The Memphis Grizzlies made up ground on the Portland Trail Blazers. The San Antonio Spurs smacked down the Chicago Bulls. The Minnesota Timberwolves took care of business against the Milwaukee Bucks.
Tuesday night was eventful for Western Conference playoff contenders.
Though the slate wasn't the most thrilling, it at least offered glimpses of what's to come – a historically loaded Western Conference playoffs.
Here are the current standings of the 10 Western Conference teams with realistic playoff chances.
1. San Antonio Spurs (47-16)
2. Oklahoma City Thunder (47-17)
3. Los Angeles Clippers (45-20)
4. Houston Rockets (44-20)
5. Portland Trail Blazers (42-22)
6. Golden State Warriors (41-24)
7. Memphis Grizzlies (37-26)
8. Dallas Mavericks (38-27)
9. Phoenix Suns (36-27)
10. Minnesota Timberwolves (32-31)
If those top eight teams keep winning at the same rate, they'd each hold a better wining percentage (red) than their corresponding seed's all-time average (gold) since the NBA adopted a 16-team playoff in 1984.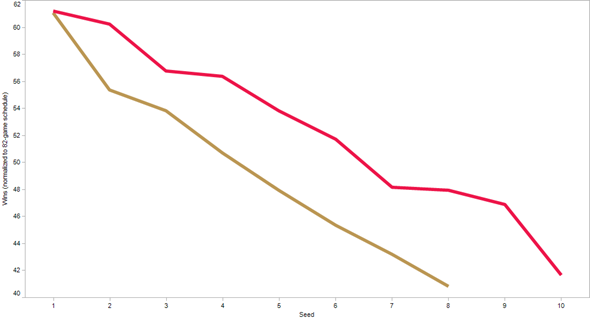 Heck, the ninth-place Suns are on pace to finish better than a typical No. 6 seed, and the 10th-place Timberwolves are on pace to best a typical eighth seed.
This is a really tough playoff field to crack.
The top eight in the West have combined to win 66.4 percent of their game. If that holds, it will be the second-best mark ever:
If you're curious, here's that 1997 Eastern Conference field:
1. Chicago Bulls (69-13)
2. Miami Heat (61-21)
3. New York Knicks (57-25)
4. Atlanta Hawks (56-26)
5. Detroit Pistons (54-28)
6. Charlotte Hornets (54-28)
7. Orlando Magic (45-37)
8. Washington Bullets (44-38)
Now, we already know the West playoff field (red) is on pace to be better than average (gold) at each seed. But how does it compare to the best teams to hold each seed under this system (black)?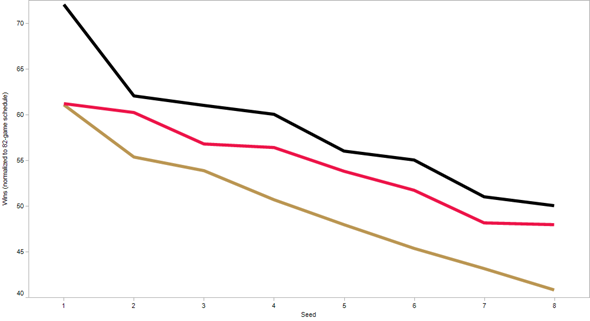 Here are the best teams at each seed:
1. 1995-96 Chicago Bulls (72-10)
2. 2008-09 Boston Celtics (62-20)
3. 1997-98 Los Angeles Lakers (61-21)
4. 2005-06 Dallas Mavericks (60-22)
5. 2012-13 Memphis Grizzlies and 1997-98 San Antonio Spurs (56-26)
6. 2007-08 Phoenix Suns (55-27)
7. 2007-08 Dallas Mavericks (51-31)
8. 2009-10 Oklahoma City Thunder and 2007-08 Denver Nuggets (50-32)
OK, so no 2014 team is on pace to set a record for its seed. Even the ninth-place Suns fall short of the winning percentage of the 2007-08 Warriors, who missed the playoffs with a 48-34 record.
But in aggregate, this year's group yields an incredible result:
The 2014 Western Conference teams are on pace to come closer to that hypothetical field of the best seeds of all time than an average field!