Our quick look around the NBA, or what you missed while hiding from your cat that scared you so much you called 911….
Blake Griffin, Los Angeles Clippers. This was as good an offensive performance as Griffin has had in the pros — 37 points on 14-of-16 shooting. After the game Chris Paul said he felt bad he didn't get Griffin the ball more. This wasn't Griffin finishing alley-oops, this was him knocking down jumpers from the elbow and showing off his Tim Duncanesque 16 foot bank shot from the wing. Check out his shot chart.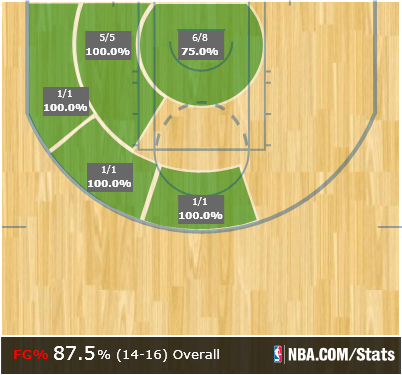 Of course, there were dunks, too.
By the way, he gets an A- because he fouled out late and without him the Clippers almost blew a late lead.

Tim Hardaway Jr., New York Knicks. This is why everybody wanted him in trades at the deadline, this is why the Knicks wouldn't give him up. After a prolonged slump (rookie wall?) Hardaway had 29 points on 9-of-13 shooting, knocking down 5-of-7 from three as he was just bombs away. Amar'e Stoudemire and Hardaway won the Knicks this game, a sentence that will never again be typed in all of human history.
Michael Carter-Williams, Philadelphia 76ers. It was in a losing cause to the suddenly hot Knicks, but the rookie got his second career triple-double with 23 points, 13 rebounds and 10 assists. He was attacking the rim and aggressive from the start (as was Tony Wroten), when that happens good things follow. His coach Brett Brown said after the game MCW is "starting to figure stuff out." By the way, he has pretty much wrapped up the ROY.
Kyle Korver, Atlanta Hawks. The streak may be over but Korver is still making plays — it's not that he had 26 on the night on 8-of-12 shooting and going 4-of-4 from three (well, partially it was), it was that with the game tied late he had five straight to put Atlanta up 101-96 with 1:36 to play. The Hawks held on for a much needed victory (it keeps the Knicks 3.5 back for the final playoff spot in the East).