In simple terms, there are four types of shots by location:
Short 2s (at the rim)
Long 2s (defined here as everywhere else inside the arc, which is a different definition than commonly used)
Short 3s (corners)
Long 3s (above the break)
Here's a breakdown of how many points per shot NBA teams score from each of those locations: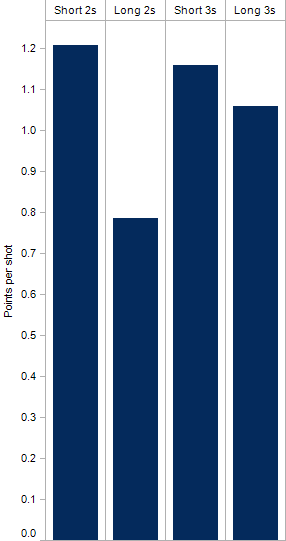 This doesn't account for how likely drawing a foul or turning the ball over is while hunting each type of shot, but you get the basic outline. Short 2s are ideal, followed by short 3s then long 3s. Long 2s should be a last resort.
That's pretty intuitive. There are no style points for making a long 2 rather than a short 2 or a long 3 rather than a short 3. And because there's typically greater distance disparity between long and short 2s than between long and short 3s, the gap in value inside the arc is greater.
Of course, not every team fits this model. Different players have different strengths, and that could shape where teams shoot from. Let's look at the Washington Wizards (in red) relative to the NBA averages (still in blue):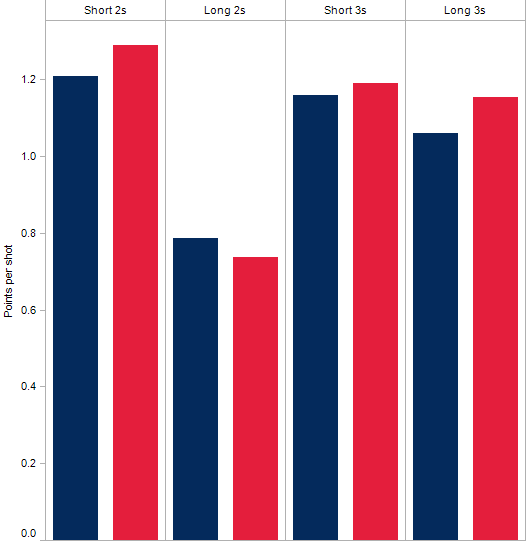 As you can see, the Wizards are better than league average at short 2s, short 3s and long 3s and worse than league average at long 2s. But the overall value of each Washington shot ranks in accordance with the rest of the league.
So, the Wizards should try to generate – in order – short 2s, short 3s and long 3s.
Easier said than done, obviously.
Defenses exist, and they're trying, too. Really, defenses would prefer to contest every shot, but like offense, playing defense is hard. That's why many good defenses focus on taking away short 2s, short 3s and long 3s – leaving the less-damaging long 2s open.
To counter, good offenses either get good long-2 shooters, or they work even harder to avoid shots from that range. It's a constant battle.
Except in Washington.
See, the Wizards will gladly take those long 2s. Wizards coach Randy Wittman, via Kyle Weidie of TruthAboutIt.net:
"You take open shots. You take open shots. Where they are is dictated by what the defense does. If you predicate what kind of shot you're going to take not based on what you're doing reading the defense, you're not going to get good shots. I just worry about goods shots.

You know what? Those numbers you can stick… alright? You know, all you analytical people that take that… You take good shots, that's the most important thing. Maybe we're not taking good midrange shots, maybe we're taking contested ones. I understand the numbers are there for a reason, we look at the numbers, but to sit there and… We got a good, open shot we're taking, I don't care where it is."
Opposing defenses are suckering you, Randy. Those shots are open for a reason.
No NBA team shoots worse on long 2s (37 percent) and has them comprise a higher share of their total shots (46 percent) than the Wizards.
Sometimes, offenses with bad players are stuck taking long 2s. Defenses just win the battle.
But the Wizards don't have bad offensive players. After all, they rank perform better than league average at all other locations.
They're just too content with an open long 2 because it's open, and that has evolved into them actually hunting open long 2s. Wittman noticed an area on the floor where he could schematically create open shots, and he thinks he's taking advantage.
Really, he's playing right into the defenses' hands. He should spend more time formulating a gameplan that creates open short 2s and 3s for his players. They're capable of delivering.
Eventually, the NBA will hit an equilibrium, where defenses guard short 2s and all 3s so well, long 2s will become efficient again.
The Wizards aren't there. They're just playing foolishly.