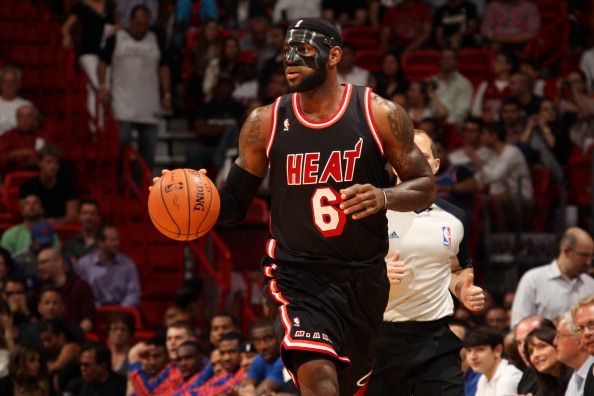 UPDATE 1:08 am: LeBron James will not wear his black mask Saturday night when the Miami Heat will go against the Orlando Magic. Instead, he will choose from a series of league-approved options with various levels of tint but all somewhat clear, reports Michael Wallace of ESPN.
The team had not reached out to the league previously on what kinds of masks were allowed, Wallace reports.
11:00 am: LeBron James wore a black mask in Thursday's win over the Knicks to protect the broken nose he suffered a week before, but despite his stylish personalization of the protective gear, the league has requested that he switch to a more traditional clear model instead.
From Brian Windhorst of ESPN.com:
James created a buzz by wearing a black carbon-fiber mask to protect his broken nose Thursday in a victory against the New York Knicks. But the league has requested James change to a more traditional clear mask when the Miami Heat host the Orlando Magic on Saturday night. …

The league's request falls in line with previous policy. Players who have worn black masks in the past have been asked to switch to clear ones.

Last season, the Cleveland Cavaliers' Kyrie Irving wore a black mask to protect a broken bone in his face but was asked to change to a clear mask as soon as one was available. In 2012, Kobe Bryant wore a black mask for a half with a broken nose but switched.
Policy is policy, we suppose, and if the league has a certain image in mind that it believes is being ruined by players donning villainous black masks, then being consistent in enforcing the rule is probably the best course of action.
Just like the last time LeBron was forced to wear a protective mask, this one had zero impact on his play. He finished with 31 points on 13-of-19 shooting in the Heat's 108-82 win over the Knicks.