This should not come as a surprise.
The Charlotte Bobcats are in talks to buyout the $13.2 million contract of Ben Gordon, reports Adrian Wojnarowski of Yahoo Sports.
Yes, you read that right, Gordon is making north of $13 million this season — more than Stephen Curry or Tony Parker or a host of other vastly superior point guards. You can thank Joe Dumars for that contract (this is the last year of a five-year deal). Gordon last played in a game for Charlotte Jan. 11. Charlotte shopped him around hard at the trade deadline but nobody was interested. Because who was going to take on that salary.
Gordon is a combo guard who in his prime was able to put up points because he had a good handle and a sweet jump shot. However, that shot has deserted him (28.6 percent from three this season). Don't take my word for it, check out his shot chart for this season.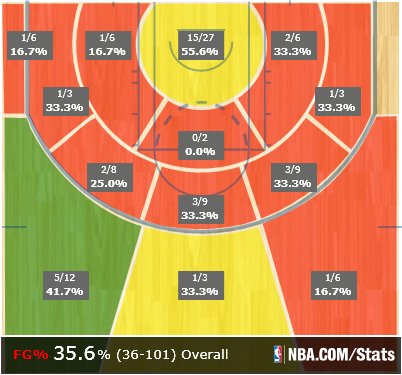 Without his jumper there isn't much else. He's as bad a defender as you can find in the NBA.
Once the buyout goes through it will be interesting to see which, if any, teams talk to Gordon about coming on board.