Our quick look around the NBA, or what you missed while realizing yes, the TSA employees are laughing at your body scans….

Tony Parker, San Antonio Spurs. The Pelicans are without Jason Smith for the rest of the season and that means New Orleans usually had Greg Stiemsma or Alexi Ajinca on the court — San Antonio got those guys involved as defenders in the pick-and-roll all night long and Tony Parker carved them up like Prime Rib. He finished with 32 points and 9 assists, leading the Spurs to a needed win.

Josh Smith, Detroit Pistons. Tonight's Josh Smith shot chart (courtesy @CoupNBA) sums up Smith's night, season and career fairly well. There was too much Smith on the perimeter, not enough Andre Drummond inside.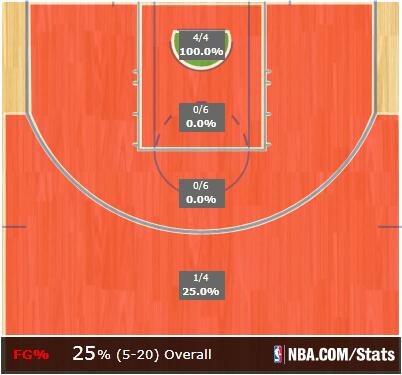 Brandon Knight, Milwaukee Bucks. It's been a while since a Buck made the night grades (at least with a passing grade next to their name), but Knight earned it. He finished with 25 points (on 10-of-23 shooting) plus seven assists. He also sank the game-winning three, getting the shot he wanted (even though he's shooting 31 percent from that spot on the floor this season) and knocking it down over Raymond Felton. It was a big game for Knight.
Carmelo Anthony, New York Knicks. He tried to get a sluggish Knicks team a win — he scored 17 of his 36 points in the fourth quarter to spark the Knicks comeback to tie the game. Then Brandon Knight drilled a game winner that was a punch to the Knicks gut (or a kick to a spot a little lower than that, if you prefer). Anthony had those 36 points on 25 shots, plus he had 5 boards.

 Kenneth Faried, Denver Nuggets. He hustled his way to 28 points and 11 boards on the night, plus did a pretty good job defending Blake Griffin (nobody is really stopping Griffin now, he is on a role). When I say Faried hustled his way to the points I mean he does what he always does — crashes the offensive glass like a beast and makes nice baseline cuts. This may have been the best game I remember Faried playing.