Jerry Sloan is the ultimate throwback — a basketball lifer who hates the spotlight.
Sloan is in it tonight — Utah is finally raising a banner in honor of the man who coached the team from 1988 to 2011, who took the team to the playoffs all but three of those years, who coached John Stockton and Karl Malone to the NBA finals.
He's so much in the spotlight that Barack Obama sent him a personal, handwritten note (via the Jazz Web site).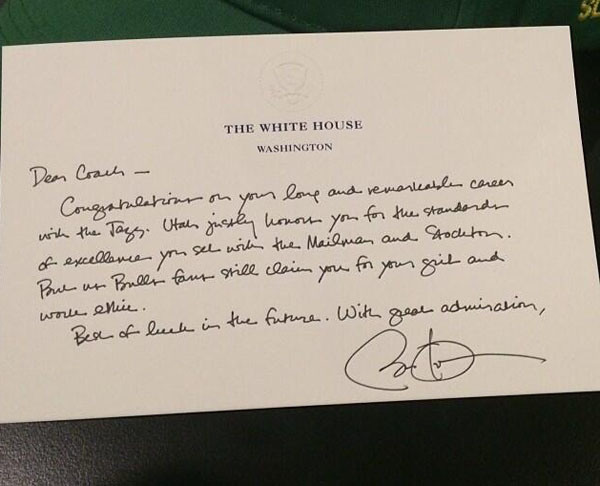 How does Sloan feel about all this? He's uncomfortable with it. Of course. That's what he Steve Aschburner of NBA.com when asked about being in the rafters in Salt Lake City.
"Yeah, that's where I belong," he said on the phone the other day, with a quick, self-deprecating laugh. "It's not something I campaigned for. I told them I didn't want to do it. They insinuated I needed to do it. So they've been good to me. I'll probably, I guess, change my mind."

"I just tried to do my job every day, and that's all you can do," Sloan told NBA.com. "They can judge you however they want. It boils down to the players. That's where the interest should be. This is a player's league, and I was just happy to be a part of it."
Some coaches though are able to get more out of players than others, to get them to buy into the system more than others. There are a lot of good coaches in the NBA, but only a handful who have just made the team better by the way they coached, how they were able to get those huge star egos that permeate the NBA to play in a system.
Sloan was one of those guys. No nonsense, tough, and players respected him for it.
He should be honored; he should be in the rafters. It's good the Jazz are honoring Jerry Sloan.
Whether he likes it or not.