It was a strategy that worked for a time early on in the Bulls' Jordan era — let Michael Jordan get his; just make sure nobody else gets going. Defend him physically, but make sure the other guys don't start racking up stats, too. Eventually that didn't work anymore as Jordan improved his team play and got better teammates (and a better system to fit them in). That same strategy has been used at times on Kobe Bryant, and on the Suns-era Steve Nash (make him a shooter not a passer) with some success.
Should the Heat try that against Kevin Durant and the Oklahoma City Thunder in a showdown Wednesday night?
Durant is on an MVP caliber roll — this is not voter fatigue with LeBron James, this is Kevin Durant being just that good. It's not just that Durant is averaging 37.5 points a game in his last 10, it's that he's shooting 45.8 percent from three and has a true shooting percentage of 69.8 percent in that time. He's been ridiculously efficient. Look at his shot chart from the last 10 games.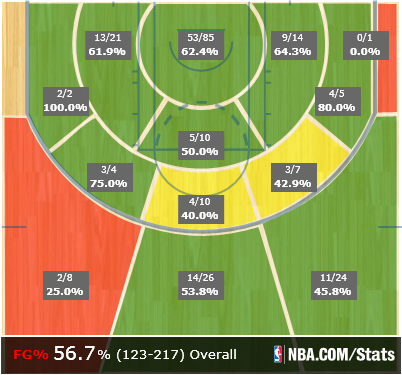 So how important is it to end Durant's streak of 11 30+ point games, LeBron James was asked, as reported at Fox Sports Florida.
"Oh yeah, it's a challenge. It's not secondary it's first-dary," said James, adding that doing so wouldn't be easy.
But maybe the answer isn't spending all their energy on Durant but rather taking away everything else.
If Durant scores 50 but Serge Ibaka, Reggie Jackson, Jeremy Lamb and the rest of the Oklahoma squad struggles, Miami will get its win. In this recent run every night somebody has stepped up and provided some scoring behind Durant, we just haven't noticed as we have been dazzled by the brilliance of Durant. If Miami can crank up its pressure defense and force Jackson, Lamb and Thabo Sefolosha into turnovers that become Miami transition buckets, they can win.
For Oklahoma City, one key is to keep crashing the offensive glass — in the last 20 games OKC has grabbed the offensive board on 32.6 percent of their missed shots. That's a lot of second chances and easy putbacks. Miami is not exactly a powerhouse team on the boards. The Thunder can exploit this.
What we all want to see Wednesday is a lot of LeBron on Durant, mono-a-mano. We likely will get some of that, you can bet LeBron will get a turn guarding Durant, especially if the game is close late.
But if the Heat let Durant make a play like an MVP shooter yet shut down everyone else, this game will end a lot like when these teams met in the 2012 NBA Finals.