Anthony Bennett had 15 points and eight rebounds in the Cleveland Cavaliers' loss to the New Orleans Pelicans on Tuesday. It was a good game for Bennett, the No. 1 pick in the 2013 NBA Draft.
It was also Bennett's first double-digit scoring game of his career.
As Kurt wrote, it's too soon to write off Bennett completely. But he has soooo much ground to make up relative to other No. 1 picks, even the established busts.
Just how much behind the curve is Bennett?
Most No. 1 picks – really, closer to two-thirds than half – scored double-digits in their first game. It took Bennett until his 33rd game – three times as long as any other top pick on record.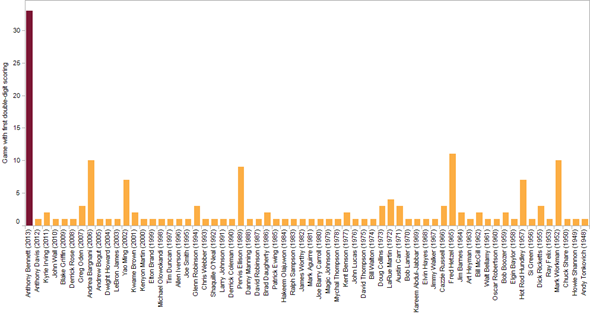 (Click chart to enlarge)
If you look closely, a few top picks don't appear in the chart. The explanations:
1954: Frank Selvy scored 1,348 points in 71 games his rookie year, making it extremely unlikely he took longer than Bennett. But Selvy began his first season with the Baltimore Bullets, who disbanded after 14 games. Their statistics are unavailable through Basketball-Reference or NBA.com.
1951: Gene Melchiorre was the No. 1 pick by the Baltimore Bullets, but before he ever played in the NBA, the league banned him for life due to a point-shaving scandal while he was at Bradley.
1947: Clifton McNeeley, the top selection of the Pittsburgh Ironmen, opted to coach high school basketball rather than play professionally.