How much can an NBA player really screw up in the first 11 seconds of a half?
In Andre Drummond's case, enough to cause Detroit Pistons coach Maurice Cheeks to bench him.
On the Pistons first play of the second half in a loss to the Dallas Mavericks on Sunday, Drummond set a ball screen at the top of the key for Brandon Jennings. Drummond either rolled too soon or slipped it too late, so Monta Ellis had no trouble sticking with Jennings and Samuel Dalembert eased back onto Drummond. Jennings drove right, and Drummond, already in the restricted area, drifted outside the paint along the baseline. Dalembert stayed near the basket and contested what appeared to be a Jennings layup attempt, but it's not conclusive, because Jennings fumbled the ball out of bounds on the way up.
What is conclusive is how the Pistons reacted.
Jennings held out his arms, palms up. Greg Monroe did the same. Kentavious Caldwell-Pope pointed to a spot near the initial screen and held his arms wide, pumping his elbows to express frustration.
Then, Jennings interlocked his fingers, put his hands on his head and made this face: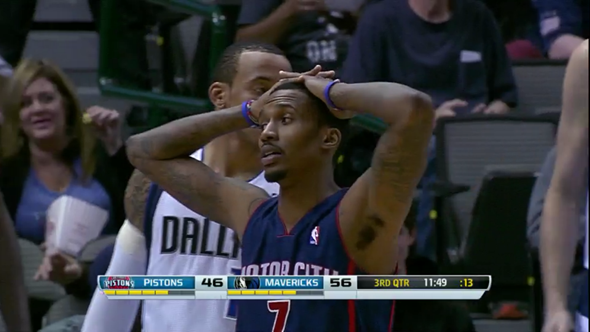 Cheeks pulled Drummond, and the Pistons were on their way toward their fourth straight loss and and 13th in their last 17 games.
Drummond re-entered a few minutes later, this time lasting three minutes before Cheeks pulled him again. On the possession prior, Drummond failed to secure an entry pass, but with such a large sample – three whole minutes! – Cheeks could have been dissatisfied with any number of things.
Sending a message is not necessarily unwarranted. Drummond, just 20, is still learning learning how to compete in the NBA.
But there's no indication Cheeks' message landed.
After the second benching, Drummond looked flustered on the bench. Detroit assistant coach Henry Bibby tried to talk to him, but Drummond just brushed him away.
Drummond got another chance in the fourth quarter. His total contributions in that period: seven minutes, one travel.
After the game, Drummond wasn't in the mood to talk about what happened.
Cheeks addressed it, though. Via David Mayo of MLive:
"It was about his play, just about his play," Cheeks said of the quick hook. "He went right back in. It's a learning experience to do what we're trying to do out of a timeout (actually halftime), and I don't think he did it right. We took him out, we put him right back in."

"He just had a bad game," Cheeks said. "The guy's 20 years old. We're not going to expect him to be like a machine every night, to go get 18, 19 rebounds. He's 20 years old. He didn't have a good game."
It's not clear whether Drummond was upset with his own effort (an underwhelming four points and six rebounds for the game) or upset with Cheeks. At some point, the emotion will wear off, and Drummond will address the issue.
But for now, two things are clear for the Pistons.
1. Drummond must play better than he did Sunday. Whether his lack of production was his own fault, a strategic issue or a combination of both, Detroit needs more from Drummond.
2. A head coaching who has directed one of the NBA's most disappointing teams can't afford to clash with his best player.