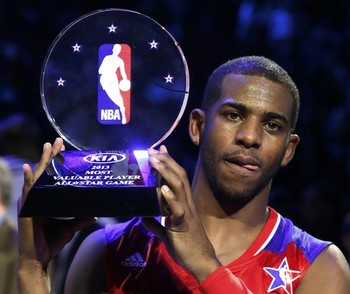 Chris Paul is still out of action for the Clippers with a shoulder injury, but the initial timetable for his return would have him back some time near All-Star weekend, which will take place Feb. 14-16 in New Orleans.
As Paul continues the recovery process, he told reporters he would love to play in the midseason exhibition if at all possible.
From Arash Markazi of ESPN Los Angeles:
"If I can play, I'm going to play, I love to play that much," Paul said Wednesday. "The All-Star Game is in New Orleans and that's part of me. That's where I played my very first All-Star Game at. Anytime you have that opportunity, I'm not going to pass that up because it's not guaranteed to happen next year." …

The All-Star Game starters will be announced on Thursday, while the reserves will be announced on Jan. 30. Either way, Paul said he will be at the game after playing his first six seasons in the league with the New Orleans Hornets.

"Oh yeah, no question, I'll be there," Paul said. "I'll definitely be there."
There's a small complication here where Paul's injury meets the All-Star selection process.
The starters are voted upon by the fans, and while Paul was initially among the leaders to get in as a starter for the Western Conference at the guard position, the injury has helped propel Stephen Curry into that slot in the latest voting returns.
For Paul to be selected as a reserve, the coaches would need to vote him in. There's no question he's deserving, but it may be a bit tricky if they think he'll still be sidelined and would prefer instead to give his roster spot to another player more deserving.
The safe way for the coaches to go would be to add Paul to the roster, and then simply designate an injury replacement if he's unable to participate. Paul was the game's MVP a season ago, and was playing at an elite level this year before suffering the injury; obviously, he should make the team in some capacity.
Nothing is guaranteed, however, so it will remain something to watch.