Taj Gibson is one of the NBA's top reserves.
He's a first-rate defender, solid rebounder and generally effective scorer.
But does he deserve Sixth Man of the Year consideration? Bulls coach Tom Thibodeau is obviously biased, but he's campaigning for his backup big.
Mark Potash of the Chicago Sun-Times:
Lakers swingman Nick Young, who was averaging 16.7 points off the bench, is a leading contender for the Sixth Man Award and didn't hurt his credentials with 17 points in the first half Monday against the Bulls. But reserve big man Taj Gibson, Young's former teammate at USC, deserves consideration, coach Tom Thibodeau said.
''Taj, to me, is a starter,'' Thibodeau said. ''He's had a fantastic year. He can score, he defends, can play multiple positions. Whatever you ask him to do, he does.''
Gibson finished fifth in Sixth Man of the Year voting in 2012, but he definitely won't win the award this year.
Despite everything he does well – Chicago allows 4.9 fewer points per 100 possessions with Gibson on the floor vs. him off – his contributions are not obvious enough to sway voters.
Gibson averages 11.8 points per game, 13th among players eligible for Sixth Man of the Year – all but eliminating him from winning the award.
Half of all Sixth Man of the Year winners have led eligible players* in scoring. Six of the last seven winners have been the top-scoring reserve, and the lone exception, Lamar Odom in 2011, ranked second (behind Jason Terry).
Gibson would be the lowest-ranking scorer to win the award since Anthony Mason (21st in 1995). Bill Walton (63rd in 1986) and Bobby Jones (33rd in 1983) are the only other players to win while ranking lower in scoring.
*Players who've come off the bench in more games than they started
Here's how each Sixth Man of the Year winner, and Gibson this year, ranked in scoring among eligible players: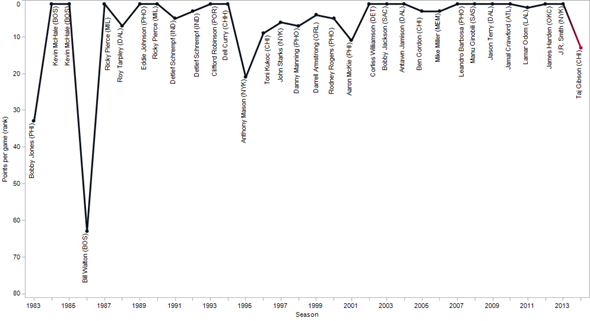 Of course, there's nothing wrong with leading reserves in scoring, as Jamal Crawford (17.3 points per game) is doing this season. I just think voters should consider other factors, too.
That doesn't mean Gibson should win the award, either. In fact, Manu Ginobili (ninth at 12.7 points per game) would be my mid-season pick. He's meshed perfectly with the Spurs, helping them on both ends of the floor.
Hopefully, Thibodeau will open eyes about how to assess sixth men, but that still doesn't mean Gibson would be the primary beneficiary. This year, it might be Ginobili whose beneath-the-radar contributions are most valuable.
But we'd all be smarter if we listen to at least why Thibodeau is stumping for Gibson.