The Martin Luther King, Jr. holiday is one traditionally well-celebrated in the NBA. Today features a 10-game slate, and we'll provide live updates, highlights and recaps here as the day goes on.
1:15 a.m. ET Tuesday: Pacers 102, Warriors 94 (FINAL): The second half of this game felt like a playoff game, down to the fired up crowd (got to love the people at Oracle) and the referees letting them play. The problem for Golden State was they were never able to dig out of the first quarter hole — behind Paul George's 14 that quarter (23 for the game) the Pacers shot 64 percent for the quarter and led by 14 when it was done. Against a team that defends like the Pacers, that's a huge hole. Indiana did a great job of chasing Stephen Curry off the three-point line — he was 3-of-11 from deep and that includes George Hill doing a great job on him late in the game. Indiana has won five in a row and looks every bit the team Miami should fear. Golden State got a taste of what it's going to take to contend.
12:31 a.m. ET Tuesday: Pacers-Warriors: Golden State knocked down a few threes, Stephen Curry woke up the Bay Area crowd, combine that with a 9-of-23 shooting streak from the Pacers and we have a game. Golden State is just up by 8 entering the fourth quarter — this is going to be a ball game. The referees are letting them play, letting it get physical, and we will see how Golden State handles that.
\11:20 p.m. ET: Pacers-Warriors: Golden State is never out of a game with their ability to make a run with the three ball, but they are going to have to do it over the contested arms of Indiana Pacers' defenders and it is not going well for them so far tonight. Indiana is up 16 and shooting 52 percent on the game. If you let Indiana shoot better than 5o percent and just try to outscore them against that defense, you lose. Stephen Curry started the game 2-of-7 from the floor.
10:52 p.m. ET: Bulls 102, Lakers 100 (OT FINAL): Two teams that have had their seasons derailed by injuries played an entertaining and competitive game that required overtime to be decided. The Bulls probably should have won in regulation, but thanks no doubt to the league publicly reprimanding officials after non-calls with games on the line, Joakim Noah was whistled for a foul on Nick Young with four seconds remaining that sent Young to the line for three free throw attempts to tie it. Near the end of the overtime session, Young once again came through with a baseline jumper that tied it, and the Lakers were just 0.9 seconds away from heading to a second overtime period. But they couldn't defend a simple baseline out of bounds play, and Manny Harris (recently signed from the D-League) horribly misplayed Taj Gibson, who sealed Harris and was able to get free for the game-winning layup as time expired.
10:43 p.m. ET: Rockets 126, Trail Blazers 113 (FINAL): Portland's leaky defense finally faced a flood not even its league-best offense could offset. Led by LaMarcus Aldridge (27 points and 20 rebounds), the Trail Blazers scored enough to win most nights. They just couldn't stop the Rockets. Portland hasn't allowed so many points in a game since 2007, and that's why its win streak is over at five games. It's no secret the Trail Blazers defense has been lacking. Of the NBA's top eight teams – the group commonly accepted as true title contenders – only Portland (20th) ranks outside the top 11 in points allowed per possession. The Rockets, led tonight by Chandler Parsons (31 points, 10 rebounds and seven assists), boast one of the NBA's top offenses. But if the Trail Blazers want to win a playoff series or two in this stacked Western Conference, they must defend better. That starts on the defensive glass, where no Portland player besides Aldridge grabbed more than two defensive rebounds. Better contesting shots on the perimeter – Houston made 16-of-33 3-pointers (48.5 percent) – would be a good second step. — Dan Feldman
9:21 p.m. ET: Rockets – Blazers: One of the day's best matchups record-wise has turned into a laugher at halftime. The Rockets have hung 71 points on the Blazers through the game's first 24 minutes and lead by 15 at the Break. Chandler Parsons leads all scorers with 19 points on 8-of-11 shooting, Dwight Howard has 15 points and seven rebounds, and Omri Casspi has 11 points on 4-of-5 shooting in 16 minutes off the bench. LaMarcus Aldridge leads the way for Portland with 16 points and 13 rebounds, but unless the Blazers can find a way to get some stops it's not going to matter. It's worth noting that Houston put together a similar first half performance against the Thunder the other night, before crashing to a record-low performance in the second.
9:12 p.m. ET: Lakers – Bulls: Thanks to 17 first half points from Nick Young, the Lakers lead 52-49 at intermission. Joakim Noah has 11 points and 10 rebounds at halftime for the Bulls, but everyone else on Chicago's side is shooting an extremely low percentage, which led to L.A. erasing all of an early eight-point Bulls lead.
8:13 p.m. ET: Hawks 121, Heat 114 (FINAL): Though LeBron James had 30 points and six assists, Miami has lost four of six. Monday, defense was the main culprit. The Heat's defense, still above average, has been at its worst since the Big Three came together. The 121 points allowed to Atlanta, which were led by Paul Millsap's 26, weren't even the most Miami has allowed this season. The Heat yielded 123 points to the Warriors earlier this month. I certainly expect Miami to get it together by the playoffs, but a chance at home-court advantage in the East is slipping away. The Heat now trail the Pacers by four games, and though that doesn't seem insurmountable, Indiana is on pace to lose fewer than eight more games the rest of the season. – Dan Feldman
The Heat may have lost, but had at least one possession that was textbook as far as their defense leading to easy points in transition.
7:50 p.m. ET: Pelicans 95, Grizzlies 92 (FINAL): Anthony Davis had 27 points, 10 rebounds, four steals and four blocks – becoming the youngest player by nearly two years to hit those totals since at least 1985. He shot 2-for-11 in the first half, but he still made a noticeable defensive impact. In the second half, he got it going on offense, shooting 7-for-11, and his defense didn't slip. He's growing into a superstar right in front of our eyes, helping New Orleans end its nine-game losing streak and snap Memphis' five-game winning streak. – Dan Feldman
6:19 p.m. ET: Nets 103, Knicks 80 (FINAL): The Nets improved to 7-1 in 2014 with an easy win over a Knicks team that didn't look like it belonged on the same court for much of the afternoon. It was essentially over at halftime, when Joe Johnson had already scored 20 points and Brooklyn showcased what has become its signature  during this recent successful stretch — exceptional ball movement and solid team defense. It could have been a bigger margin, too, considering the Nets were just 3-of-10 shooting corner threes, and almost all of the attempts were wide-open looks.
Deron Williams returned after a five-game injury-forced absence, and finished with 13 points on 4-of-10 shooting, to go along with three assists in 27 minutes of action off the bench. Williams said afterward that the reserve role was his idea, and that he didn't want to disrupt the team's solid starting lineup.
The last time these two teams met, New York crushed an injury-ravaged Nets team in Brooklyn back in early December. Today, it was the Nets' turn to bring the destruction.
"Simple payback," Andray Blatche said afterward. "They came into our place and embarrassed us, and we wanted to come back and return the favor."
4:42 p.m. ET: Wizards 107, 76ers 99 (FINAL): This wasn't Washington's most-polished performance, but its centers – Marcin Gortat (19 points, 11 rebounds and four blocks) and Kevin Seraphin (16 points, seven rebounds and a block) – dominated in a combined 46 minutes. Sometimes, out-muscling an opponent is enough. Both teams will probably take this result. The Wizards boost their playoff position, and Philadelphia continues tanking. Plus, Michael Carter-Williams (31 points, six rebounds, five assists and three steals) bolstered his Rookie of the Year case. — Dan Feldman
4:38 p.m. ET: Clippers 112, Pistons 103 (FINAL): DeAndre Jordan dunked four times in the game's opening minutes, kick-starting a riveting matchup – between Jordan and Blake Griffin for who could dunk most. Jordan held onto his early lead, besting Griffin seven to five. Los Angeles led by 20 before the Pistons made a late comeback, but this one was all about the Clippers. Whether it was Griffin's 25 points, Jordan's 21 rebounds or Jamal Crawford's 26 points on 13 shots off the bench, Los Angeles had all sorts of contributions that masked the absence of Chris Paul. — Dan Feldman
4:34 p.m. ET: Heat – Hawks: Dwyane Wade told reporters he will not play in today's game in Atlanta, which isn't really a surprise with Miami playing a back-to-back in Boston the very next night. The Heat have been cautious with Wade all season long in terms of back-to-back sets, and Erik Spoelstra has said more than once that Wade will be essentially a game-time decision for the remainder of the regular season.
Wade: "Just a little soreness."

— Ethan J. Skolnick (@EthanJSkolnick) January 20, 2014
4:26 p.m. ET: Bobcats 100, Raptors 95 (FINAL): This score would have been a bit of a surprise anyway, considering that the Raptors had largely been playing much better and the Bobcats even with the win are still seven games under .500 on the season. But it's even more of a shock considering that Toronto no-showed for the early part of this one, and trailed by as many as 30 before staging a furious comeback that fell just short.
Kyle Lowry was the one who sparked the Raptors, scoring 14 fourth quarter points and having a chance to tie it at the free throw line with under 25 seconds remaining. He missed the chance to complete the three-point play, however, and the Bobcats finished the game by hitting seven free throws to seal it. Ramon Sessions finished with 23 points on just 10 shots for Charlotte, and Al Jefferson had a monster game with 22 points, 19 rebounds, seven assists and two blocked shots.
4:18 p.m. ET: Wizards – Sixers: Here's Jan Vesely with a violent rejection of a shot attempt from Michael Carter-Williams. Wizards cruising late, however, up 100-88 with 3:51 to play.
3:58 p.m. ET: Nets – Knicks: Brooklyn leads 52-38 at the half, behind 20 points from Joe Johnson, who has been killing teams early over his last several games. The key for the Nets has been ball movement, which has created wide open looks that the team has been able to convert at a clip of 51.2 percent. Carmelo Anthony is leading the way for New York with 15 points, but the Knicks as a team are shooting just 33.3 percent and have committed 11 first-half turnovers.
3:40 p.m. ET: Mavericks 102, Cavaliers 97 (FINAL): This was a game that Dallas led by as many as 24 points, but the Cavaliers managed to come all the way back to have a chance to tie with 2.8 seconds remaining. But Mike Brown isn't exactly known for his ability to draw up anything remotely competent offensively, and the Cavs couldn't even inbound the ball to get the tying shot off, and were whistled for the rare five-second call that sealed it.
Kyrie Irving finished with 26 points (albeit on 27 shots), and Anderson Varejao ended up with a game-high 21 rebounds in the losing effort. Monta Ellis had nine points in the final period for Dallas, but missed two critical free throws that gave Cleveland the final opportunity to tie, which was ultimately squandered.
3:14 p.m. ET: Clippers – Pistons: L.A. is firmly in control, leading 103-85 with 6:52 to play. We told you earlier about the dunking of DeAndre Jordan, and apparently the trend continued as the game went on. [Hat tip to our friends at Basketball Insiders]
3:06 p.m. ET: Wizards – Sixers: Michael Carter-Williams is feasting for Philly, even as the Wizards maintain a 57-47 lead with 1:45 to play in the first half.
#wizards are like a bowl of Get-right soup for Michael Carter Williams. MCW has 19 pts on 8-12 FGs after going 6-29 FGs in previous 2 games

— Michael Lee (@MrMichaelLee) January 20, 2014
3:01 p.m. ET: Knicks – Nets: Brooklyn got Deron Williams back after a five-game absence, but went with its same starting lineup and brought him off the bench. The Knicks started small (much to their fans' delight) with Pablo Prigioni similarly returning today from injury. Joe Johnson has been lighting teams up in first quarters lately, and today has been no different — he has 10 points early, and the Nets lead the Knicks 21-12 with 3:24 remaining in the opening period.
Shaun Livingston had a nice block that led to a transition slam in the game's opening minutes.
2:52 p.m. ET: Raptors – Bobcats: Toronto was coming off of a disappointing home loss to the Lakers on Sunday, and were looking to bounce back against a Bobcats team that just lost Kemba Walker for the next two weeks or so with a sprained ankle. So, naturally, Charlotte is up by 18 with 4:39 to play in the first half. Al Jefferson has 12 points early for the Bobcats.
Wizards – Sixers: Washington is up nine on the Sixers early in the second quarter, behind 10 points from John Wall, and seven apiece from trevor Ariza, Marcin Gortat, and Bradley Beal.
2:04 p.m. ET: Here's the league's Dream Big spot to get us started, featuring Chris Bosh of the Miami Heat.
Jordan Brand has specially-designed kicks that their athletes (including Blake Griffin and Ray Allen) will be wearing to celebrate the holiday, as well as Black History Month which begins in February.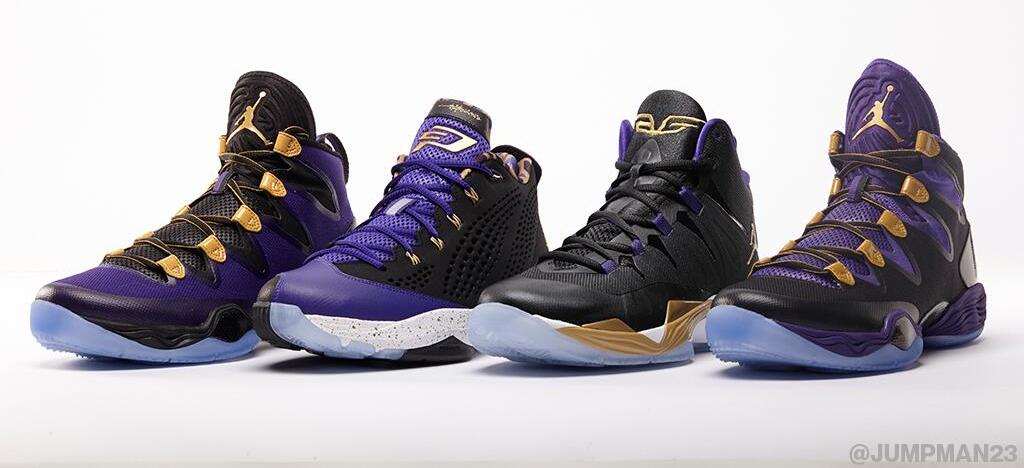 Mavericks – Cavaliers: Dallas is all over Cleveland late in the second quarter, leading 51-33 with 2:27 to play in the first half. Shawn Marion has 14 points on 5-of-5 shooting to lead the way for the Mavs, while the Cavaliers are shooting just 34.3 percent.
Clippers – Pistons: The Clippers are also up double-digits midway through the second, thanks to shooting almost 68 percent as a team behind a combined 15-of-18 shooting from Blake Griffin, DeAndre Jordan, and Jamal Crawford. It's 51-41 L.A. with 4:16 remaining in the first half. It's been a bit of a dunk-fest early, which included this reverse finish from Jordan on an alley-oop pass from beyond half-court.