Josh Smith does not have a reliable jump shot.
This is not some great secret, everyone in the league knows it — it's part of why he puts up fantastic numbers playing the four (when he can either overpower smaller defenders or drive past larger ones to get close to the rim). It's why there were questions about him fitting in with Detroit where both Andre Drummond and Greg Monroe work best close to the basket as well. Not shockingly, the Pistons are a mess when those three are paired (what is surprising is how bad the team defense is with those three on the court).
Also not a shock, Josh Smith does not care for your fancy math that says he shouldn't shoot outside 8 feet.
Here is what Smith told the USA Today.
"I just play basketball," he said. "I'm a basketball player. People try to throw statistics in there. I'm not one to look at where I am on the court (when I shoot).

"I'm confident in each and every play I make. I don't think about it. I just play and play with confidence."
Here is Josh Smith's shot chart for this season.
Better yet, here is his shooting chart for broader, more basic zones.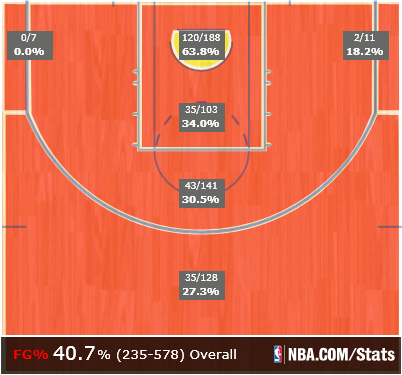 To be clear, Smith is shooting 54.3 percent 8 feet or closer to the rim, 27.9 percent beyond that range. Or, if you prefer, he is shooting 65 percent in the restricted area and 29.7 percent outside it.
That's not some magical algorithm breaking down his game, that's somebody taking the time to chart where he shoots the ball from and how well he does that.
There's a reason teams give him the jumper.
So he can have all the confidence he wants, he shouldn't shoot as many jumpers.
Mo Cheeks has to find some rotations that work for this team — as our own Dan Feldman noted, any combination of two of the three bigs and the Pistons look good. But all three in the mix is a mess.
More than Cheeks' issue, it's Joe Dumars' issue. He has to put together puzzle pieces that fit, and halfway through the season we have a pretty good idea of what is not working.