It was the best of halves, it was the worst of halves.
Unfortunately for the Rockets the worst of halves was the second one.
That's when Houston went ice cold from three (0-of-9), shot just 19.4 percent overall and put up 19 points. It was that half that makes you realize how far this Rocket team is from where it ultimately wants to be.
It was that half that cost the Rockets a win as they fell to Oklahoma City 104-92.
But oh, the Rockets fist half was glorious — they put up 73 points and shot 12of-20 from three. James Harden was attacking — on one play he raced up court and pretty much drove past every Thunder player for a dunk — and had 16 points. Chandler Parsons and Terrence Jones each had 10. Even Dontas Motiejunas had 13. As you can see from the Rockets shot chart for the first half they did their damage from three and got 24 shots inside 8 feet.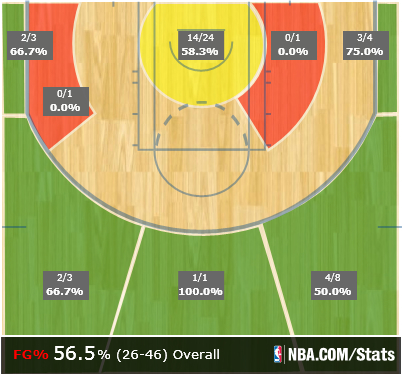 Then there was the second half shot chart.
Let's give Oklahoma City some credit for cranking up the defensive pressure in the second half — clearly embarrassed by their first-half performance they got in front of guys, challenged shots and generally seemed to give a crap. Which is more than you can say about the first 24 minutes. Despite what some seem to think of him, Scott Brooks can and does make adjustments and the ones he made worked well.
But the Rockets just also missed shot after shot after shot.
Going from 73 to 19 points between halves is the biggest discrepancy in NBA history, and the 19 ties the NBA record for fewest points in a half.
Houston has been up and down all season, looking like a team trying to figure out who they are some nights, especially when challenged. Tonight was a microcosm of that. Dwight Howard was a non-factor all night with 11 points and 8 boards. It all shows they have a journey ahead of them still.
For a Thunder team struggling without Russell Westbrook this was a sustaining win for the Thunder, something they can build off of. You knew Kevin Durant would be special and he was with 36 points, but it was Serge Ibaka with 21 points, 15 rebounds and five blocks that put the Thunder over the top. Reggie Jackson came in with 23 points to give the Thunder other scoring options.
It was just one game, but it was one wild game. And one where the real character of teams at this point shown through.