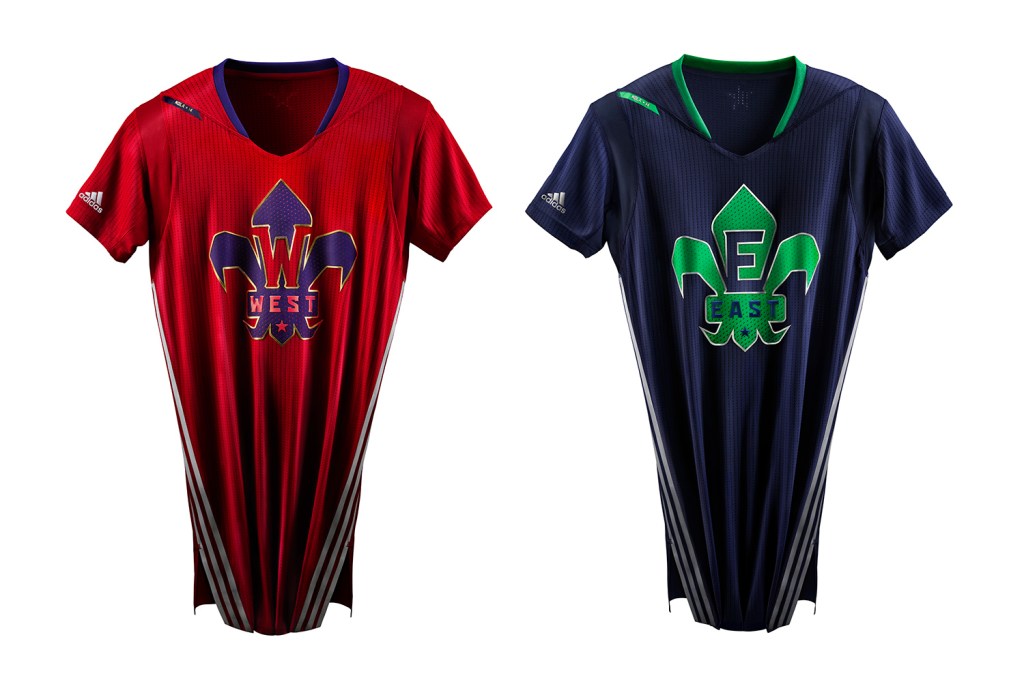 After images began to leak earlier in the day, adidas pushed up its official reveal of the 2014 NBA All-Star jerseys with high-resolution, detailed photos of what the uniforms will look like.
From the official release:
"Designed by adidas, the uniforms are inspired by New Orleans' rich and unique culture, featuring vibrant Mardi Gras colors and shiny brass and silver accents on a short-sleeved silhouette. The NBA All-Star logo appears on the chest of the blue "East" and red "West" jerseys in the shape of the fleur-de-lis, the official symbol of Louisiana, with a purple "W" or green "E" cut out to identify the conference of each player."
"Each year, we look forward to developing a unique on-court look for the players that pays homage to the host city and adds to the excitement of this highly anticipated game," said Chris Grancio, adidas head of global basketball sports marketing. "This year's All-Star collection reflects New Orleans' festive musical history while also providing the premium performance elements that NBA athletes have grown accustomed to."
"The All-Stars will take to the court in black, white and gray varsity-style warm-ups featuring conference logo patches.  Each player's jacket will be customized to represent individual career accomplishments such as NBA All-Star Game appearances and NBA All-Star MVP awards, NBA Championships, regular season accolades and scoring titles. Players will also wear shooting shirts that feature a colorful primal print."
Yes, we know they have sleeves. But if you don't like them, just know you're part of a (very) vocal minority, because the sales adidas is seeing with the sleeved alternate uniforms have exceeded the company's expectations — meaning, they're not going away anytime soon.
We'll have more on this, but for now, check out the gallery below of what we'll be seeing the game's biggest stars wearing during the midseason exhibition on Feb. 16 in New Orleans.