LeBron James has not won a scoring title since 2008, when, not coincidentally, he last led the NBA in shots per game.
Attempting the most shots is not a sure-fire way to lead the league in scoring average – Kevin Durant leads the NBA in points per game this season, though Carmelo Anthony and LaMarcus Aldridge have taken more shots per game – but it helps. And Durant still shoots at a high volume – so high in fact, he actually wants fewer attempts.
LeBron on the other hand…
"I get jealous sometimes when I look over at KD and he's like 16-for-32 (from the field) and then 14-for-34. … Man," James told ESPN.com's Tom Haberstroh.
James could stand to take more shots but explained, "I'm not much of a forced-shot guy.

"But there are games where I have it going, and then at the end of the game, I'm like, damn, I shot just 12-for-16? Why don't I get up at least six or seven more? I definitely notice it."
There's no secret why Durant shoots more than LeBron. With Russell Westbrook out injured, the Thunder need Durant to carry them offensively. LeBron has a couple star teammates, Dwyane Wade and Chris Bosh, who need need shots. Plus, LeBron is a better distributor than Durant, making passing up a shot the correct call more often for LeBron than it is for Durant.
Could LeBron shoot more and still help his team, though? Almost definitely. A 59/40/75 shooter, LeBron is incredibly efficient. Even if he forced more shots and lowered his efficiency, it would still likely sit well above his teammates'. The equilibrium point probably requires more LeBron shots.
But that's not his game and hasn't been since he joined Wade and Bosh in Miami. In his four years with the Heat, LeBron's per game averages have been:
26.7 points on 18.8 shots
27.1 points on 18.9 shots
26.8 points on 17.8 shots
26.0 points on 16.1 shots
In NBA history, there have been 240 seasons of players as scoring as many points per game as LeBron has each of his four years in Miami. In shots per game among that group, LeBron's seasons rank as the second- , ninth- , 26th- and 28th-fewest (marked in red).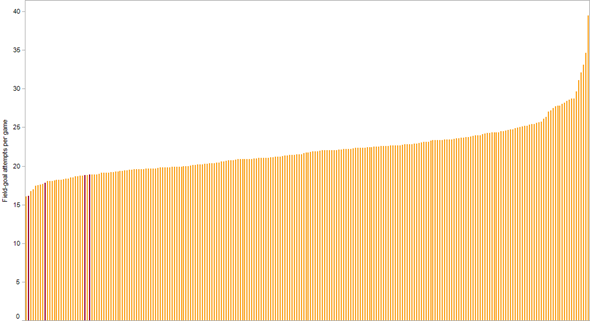 Only Adrian Dantley (sixth-,
15th-,
17th- and
22nd-fewest) rivals LeBron's sustained output of high-volume, low-shot scoring. Karl Malone (7th-,
14th-,
24th- and
30th-fewest) and Shaquille O'Neal (10th-,
12th-,
18th- and
33rd-fewest) fall just short of the discussion.
The season with the fewest shots per game on that list belongs to Charles Barkley, who scored 28.3 points on
16.0 shots per game in 1987-88.
Announcement: Pro Basketball Talk's partner FanDuel is hosting a one-day $85,000 Fantasy Basketball league for Wednesday night's games. It's $25 to join and first prize is $9,000. Starts at 7pm ET on Wednesday. Here's the FanDuel link.
This is the path LeBron chose when signing with the Heat, and I think he knows that.
I don't take his comments as complaining, as much as they're acknowledging a downside to his decision.
The upside definitely trumps it.
By sacrificing his individual game to play with other stars, LeBron has two titles already. He has a good chance at a third this season, and his championship window won't close after that.
I also believe history will judge his historically efficient seasons even more kindly than they're being judged right now.
In hindsight, we probably overrated players like Allen Iverson during their high-volume, low efficiency seasons. The tide has turned a great deal already, but I think it has further to go. Efficiency – in this regard, not wasting possessions with missed shots – is becoming increasingly valued at the expense of volume stats like points per game.
Everyone knows LeBron is the best player in the NBA right now. But when people look back on his career, I think it will be viewed even more favorably – precisely because he doesn't regularly shoot 16-for-32 or 14-for-34 like he wishes he did.