The Memphis Grizzlies traded Rudy Gay and reached the Western Conference Finals. The Toronto Raptors traded Gay and are streaking toward home-court advantage in the first-round of the Eastern Conference playoffs.
Regardless of anything Gay did, his perceived value dropped considerably in the last two years.
But might Gay be taking control of his own narrative now?
Gay has played well in his 15 games with the Sacramento Kings, at first alternating gems and duds throughout the first seven contests as he's done for much of his career. But in the last eight games, Gay has taken off while helping Sacramento to a 5-3 record. He's producing better than usual across the board, the biggest uptick coming in the area he's under the strongest microscope: scoring.
In his last eight contests, Gay is averaging 23.0 points per game. Everyone knows Gay can score. He's had 23 other eight-game stretches within a single season where he's scored this much, all with the Grizzlies.
But the typical questions revolve around how he scores. Is he efficient? Is he helping his team's offense? The answers in this stretch are a resounding yes and yes.
In this stretch, Gay has made 57.3 percent of his shots and the Kings have a 112.1 offensive rating with him on the court. Both marks best his previous 23 eight-game stretches with at least 23.0 points per game.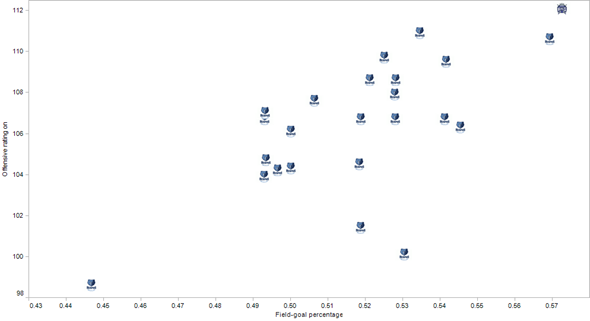 But it's difficult to see why Gay has been scoring so much better.
He's working within the flow of the offense about as much as usual. His baskets aren't any more likely to be assisted than prior to this run.
His shot selection by area of the floor is basically the same as usual, too.
And it's probably not the opposing defenses, either. The Kings' last eight opponents – Heat (10th in defensive rating), Spurs (5th), Rockets (11th), 76ers (28th), Bobcats (8th), Magic (18th), Trail Blazers (22th), Cavaliers (16th) – average out to an approximately median defense. (Though the Kings are scoring a solid 105.7 points per 100 possessions without Gay in these eight games, at least leaving the door open that something larger than Gay is afoot).
The simplest answer is that Gay, for all his foibles, is an extremely talented player and this is well within his range. Gay has never matched individual volume and efficiency like this, let alone mixing in the team-wide offensive success. But the results are not so far beyond his previous high-water marks that this couldn't be another regular wave, splashing just a little higher toward shore.
One contributing factor might be the Kings' schedule. They haven't played a back-to-back in these eight games, the last five of which have been at home. Gay, an impressive athlete, has looked particularly explosive in this stretch – elevating quickly and highly on his jumpers, starting and stopping on drives and just making strong moves with the ball in his hands.
Sacramento begins a six-game road trip that should really test just how far Gay has come, and the results could reveal themselves very soon.
Tonight, he'll face the Pacers, who are led by small forward Paul George, one of the NBA's best defenders at the position. A Wednesday game with the Timberwolves will mean Gay's first back-to-back since this run started. And then Friday, he'll be back in Memphis, where he'll surely want to prove the Grizzlies erred by giving up on him.
Gay has never played like this before. I'm not sure he ever will again.
But the chance to prove this improved production, or something near it, is sustainable begins tonight in Indiana.
-Dan Feldman
Knicks 98, Suns 96 (OT): The Knicks won their fifth straight, but they didn't make it easy on themselves against a Suns team that has a reputation for fighting until the end this season, no matter the circumstances. New York led by as many as 14 in this one, but found itself trailing by five with less than five minutes left. Leandro Barbosa, who Phoenix recently signed to a 10-day contract, showed flashes of his former Suns self with 14 fourth quarter points, and made the two free throws that forced the extra session. Carmelo Anthony led all scorers with 29 points, and Raymond Felton had a good night offensively with 19, but struggled to contain or even slow Barbosa and Goran Dragic on the perimeter. This was the final night of a five-game, seven-day road trip for Phoenix, and it showed in overtime where the team struggled to get good looks and went 0-for-7 from the field in the last five minutes. —Brett Pollakoff
Raptors 116, Bucks 94: The Bucks have the worst record in the league at 7-30, and the Raptors have been surging since the trade of Rudy Gay, and have won eight of their last 10 games. As a result, Toronto took charge of this one from the jump, scoring 38 first quarter points and leading by as many as 14 points over the game's first 12 minutes. The lead reached 31 before the night was through. Kyle Lowry, whose name was mentioned in trade talks earlier this season, continued his strong play with a team-best 23 points on eight shots, to go along with five assists. —BP
Rockets 104, Celtics 92: This was an ugly game for Boston when you look at the way the Rockets clobbered the Celtics for most of the night, outscoring them 65-38 over the second and third periods. Boston made it uglier in the fourth when they went to the strategy of intentionally fouling Dwight Howard and sending him to the line 14 times in the game's final period. Howard made six of those and finished 10-of-18 from the line for the night. Celtics head coach Brad Stevens said afterward that he would support a change in the rule that allows the intentional fouling to take place, even though he used it, and achieved less-than-ideal results. So maybe it's time. —BP
Wizards 100, Bulls 87: So much for the Bulls five-game win streak — this is not a team or roster than can take a night off from executing on defense, Chicago did and they paid. Washington opened this game on an 8-0 run and never trailed in this game. Washington shot 59 percent in the first half and 52 percent for the game. The wizards were led by John Wall and Nene, each of whom had 18 points — when they are both healthy and working well Washington is a pretty dangerous team. Wall was able to basically get wherever he wanted on the court, he was too quick for the Bulls defenders. — Kurt Helin
Spurs 101, Pelicans 95: Consider this a moral victory for the shorthanded Pelicans (no Ryan Anderson or Jrue Holiday for a while). The Pelicans got 9 points from Eric Gordon in the first quarter, 12 from Anthony Davis in the first half and they did a good job defending the arc. Then the fourth quarter came and the Spurs shot 60 percent overall, hit 4-of-6 from three, got 8 points from Marco Belinelli and pulled ahead for the win. Tony Parker was a stud — 27 points and 7 assists. Tell me again how he shouldn't be an All-Star this year. —KH
Mavericks 107, Magic 88: The Mavericks went on a 14-4 run in the first quarter to take control of this game, and that was pretty much it. Oh, they played more than three quarters because NBA rules demand it, but the game was never in doubt. Monta Ellis had 21 points, Vince Carter 17 and it was a professional, taking care of business win for Dallas. For Orlando… well, there was one stretch in the second half where they played better. Orlando has lost eight in a row, seven now by double digits. —KH
Jazz 118, Nuggets 103: Utah had a monster offensive night — led by Alec Burks 34 points the Jazz shot 55.7 percent as a team, or to look at it another way they had an offensive rating of 123.2 points per 100 possessions in this game. That was tied to some terrible defense from Denver — the Nuggets played poor defense in the paint (we're looking at you Kenneth Faried and J.J. Hickson) which forced the guards to come down and help in the paint, which left the Utah guards open and they made Denver pay. Derrick Favors had 19 points for Denver, Trey Burke 18. —KH