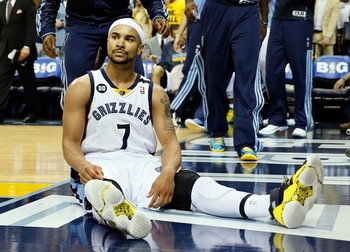 Despite the Celtics getting out to a better than expected start to the season, they're still a team in a full-fledged rebuilding mode, which we're reminded of by the news of the team's latest trade.
Marc Stein of ESPN.com has the details:
Boston Celtics, I'm told, are in advanced discussions on a trade to acquire Jerryd Bayles from Memphis in a deal involving Courtney Lee

— Marc Stein (@ESPNSteinLine) January 5, 2014
Trade call on Boston's looming acquisition of Jerryd Bayless for Courtney Lee, I'm told, is being scheduled for Monday. Deal is happening

— Marc Stein (@ESPNSteinLine) January 5, 2014
It's not official just yet, but Lee is likely being held out of Sunday night's game in Oklahoma City. And more pieces beyond Lee and Bayless are likely to be involved when it is, according to Sam Amick of USA Today. A. Sherrod Blakely of CSNNE.com confirmed the deal is close to happening.
The move is completely understandable from the Celtics' perspective. Lee is owed more than $11 million over the next two seasons, while Bayless is on an expiring deal that pays him just $3.1 million this season. Boston would gain immediate cap flexibility, and get approximately a half-season of productivity out of a serviceable backup at the point guard position.
It's less clear what the motivation in Memphis is, but once the trade has been finalized and we see all of the pieces involved it may make more sense.