Our quick look around the NBA, or what you missed while trying to find Stephen Colbert's cameo in "Hobbit 2"….



Blake Griffin, Los Angeles Clippers. This is what Blake Griffin looks like when his midrange jumper falls. Griffin was 7-of-10 from the midrange and even nailed a three on his way to 31 points — check out his shot chart.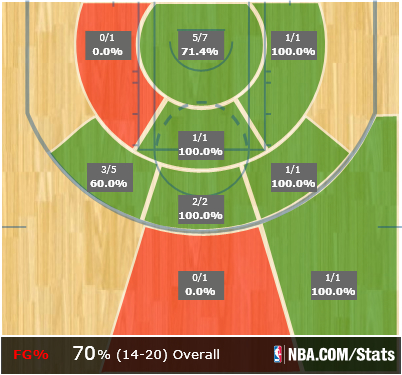 People who don't think Blake Griffin is still evolving as a player — anyone who tells you "all he can do is dunk" — isn't watching him. His jumper is not as consistent as you would like, he can be too hesitant to make his move when he gets the ball on the block, he's got work to do on the defensive end, but he and his jumper are improving — and he does make plays. Besides there is nothing wrong with dunks.
 DeMar DeRozan, Toronto Raptors. The Raptors traded Rudy Gay and have been 9-3 since then counting the big win Wednesday over the Pacers. Apparently missing his former teammate, DeRozan did his full on Rudy Gay impression in this one — in the first three quarters he was 6-of-18 shooting for 16 points, just an inefficient gunner with Paul George defending well and forcing him into bad midrange shots. Then in the fourth DeRozan started hitting those tough shots — he had 10 points on 3-of-6 shooting and was key in Toronto owning the final six minutes and winning. DeRozan finished with 26 points on 24 shots and he was making the tough ones from the midrange. All very Gay like, but it worked for a night.

 Denver Nuggets. Just when you think they have hit rock bottom, they find a new bottom. A struggling, tanking Sixers team came to Mile High and make it eight straight losses for Denver. Once again you can't say it was either the offense or defense for the Nuggets as both were bad — over their last five games Denver has the 29th ranked offense and 29th ranked defense (in points per possession, via NBA.com). They used to run teams out of the building at altitude, but that starts with getting turnovers or stops and that isn't happening. Plus their offense is stagnant and seems to be a lot of dribbling around, or a Ty Lawson/J.J. Hickson pick-and-roll, and not much else. Denver is 1-8 since Brian Shaw banned pizza and junk food from the locker room, time for someone to make a call over to Lucky Pie Pizza and Taphouse and get a delivery.