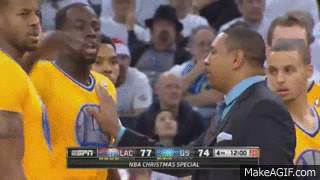 In case you missed it — and if you didn't stay up to watch the Clippers at Warriors late game on Christmas Day then you really missed out — let me try to give you a little context.
Golden State's Draymond Green got ejected after he got his elbow up above the shoulder and caught Blake Griffin with it in a little tussle at the end of the third quarter. Not sure it deserved a Flagrant 2 and an ejection, but that's what we got — Green got tossed.
And Andre Iguodala had the best reaction. As you can see.
Hat tip to the great NBA community at Reddit for this.