Over the next few days in this space, we'll break down a play that's largely unique to one team. To kick off this signature series, we'll start with the Los Angeles Clippers' "Ring-Around-The-Rosie" screen.
Innovation in the NBA is often about adding little wrinkles to something very simple.
There are no "Wildcat" offenses that take the league by storm, but rather slight variations of plays that teams have been running for years.
NBA offenses around the league have run "floppy" screens for a long, long time. The basic idea of a floppy screen is to free up a shooter for a perimeter look. As you can see below, the floor is flipped and it's the wings under the basket waiting to receive screens to free them for perimeter jumpers.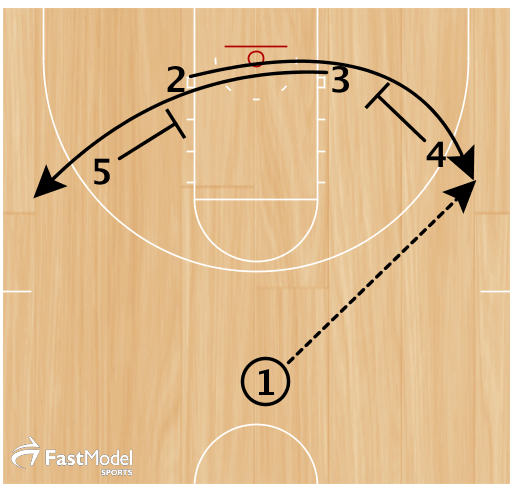 Doc Rivers ran this for Ray Allen in Boston about, oh, a million times. Although Rivers isn't often credited for being an offensive-minded coach, he does script some nice plays to get guys open looks.
While Rivers doesn't have Allen in Los Angeles, he does have a bunch of wings that are comfortable running off of screens. His best weapon and the player that most resembles Allen is J.J. Redick, but Redick is still out with a wrist injury.
That still hasn't stopped Rivers from running plays for guys not named Chris Paul or Blake Griffin, which is a fairly new concept in Los Angeles.
While the bread and butter of the offense is still CP3 in the pick-and-roll, the Clippers now have a few other ways to attack. LAC is once again fifth in offensive efficiency, but they're also less prone to bogging down against elite defenses.
The Clippers' offense didn't need a drastic overhaul from last year; it just needed a little fine-tuning. There are subtle little differences making the Clippers more difficult to guard and also a little less predictable than in previous years. Just watch the off-ball action under the basket in this clip:
[youtube=http://www.youtube.com/watch?v=8D3HFwZofuc&w=560&h=315]
You'll see many teams run floppy screens or single-double screens to free up shooters, but rarely will you see two players on the same team dance around in circles for a moment and then slingshot each other out to the opposite wing.
There's been some competing thoughts floating around on what to call this play. Andrew Han of ClipperBlog prefers "Floppy Merry-Go-Around", which sounds like a terrible carnival ride. I personally prefer the "Rosie screen", partially because it might be the only play with its own song:
Ring around the rosie
Redick and Dudley are like Ray Allen and James Posey
Jumpers, jumpers
They all fall down!
Call it whatever you want — it's effective. After a 23-point shellacking of the Spurs, it looks like the little twists are helping the Clippers notch signature wins, too.
-D.J. Foster

Woodson: "I probably should have taken for sure the timeout there at the end. "

— Brett Pollakoff (@BrettEP) December 17, 2013
Wizards 102, Knicks 101: Bradley Beal returned after a a nine-game absence and scored 14 fourth quarter points — including the game-winning layup with six seconds left — to send the Wizards home with the win. This one was more than in reach for the Knicks, who overcame a 15-point third quarter deficit, only to fall short on the game's final two possessions. New York had a foul to give on Beal's layup but didn't take it, and had three timeouts left but didn't call one, instead opting to try to go the length of the floor to rush up an incredibly difficult shot. — Brett Pollakoff
Pistons 101, Pacers 96: Detroit handed Indiana its first home loss of the season, and did it with above average defense on Paul George and Roy Hibbert, along with a crushing effort on the glass. The Pistons ended up with a 55-40 rebound advantage, thanks to Josh Harrelson grabbing 10 off the bench in just 16 minutes of action. George and Hibbert combined to shoot just 6-of-26 from the field, while Josh Smith dropped in 30 for Detroit. This was a brutal back-to-back for the Pistons, facing the two best teams in the league record-wise on consecutive nights. The effort in both games — a win against the Pacers after losing at the overtime buzzer to the Blazers the previous night — suggests that Detroit might be figuring some things out. — BP
Celtics 101, Timberwolves 97: Kevin martin missed this one with a sore left knee, and on a night where Minnesota shot just 37.8 percent from the field, they could have used his offense. The Celtics, meanwhile, got a huge 15 point, six rebound fourth quarter from Jared Sullinger that helped them seal the win. — BP
Nets 130, Sixers 94: And it wasn't even that close. This was the Joe Johnson show, who caught absolute fire in the third quarter. He poured in 29 points in the period and hit eight of his 10 attempts from three-point distance in 12 third quarter minutes that turned this one into a complete laugher. Johnson finished with 37 points, and Deron Williams added 13 points and 13 assists. —BP
Hawks 114, Lakers 100: Los Angeles led this game into the second half because they played to the mismatch — they pounded the undersized Hawks inside with Pau Gasol (10 points in the first quarter on 5-of-5 shooting), and Jordan Hill who had 13 first half points. You didn't expect that to last, did you? The Lakers stopped defending the arc (the Hawks were 8-of-16 from three in the second half) and Atlanta hit shots they missed in the first half. Atlanta has fantastic ball movement and it shows, Al Horford had 19 to lead a balanced Hawks attack. Nick Young led the Lakers with 23. Once again Kobe Bryant looked better, but he has a ways to go still. –Kurt Helin
Heat 117, Jazz 94: Give the Jazz credit, they got the ball inside and scrapped for the first half — they had 32 points in the paint and 17 second chance points at the break. But you knew the talent levels would show — Miami opened the third quarter on a 16-3 run and that was basically it. LeBron James just missed a triple-double with 30 points, 9 rebounds and 9 assists. —KH
Magic 83, Bulls 82: Orlando seemed to be in control of this game but a couple times a Bulls run would make it interesting — the key one of those was a 10-0 run in the fourth that made it close late. Chicago had a chance to tie but Luol Deng missed a layup and after Glen Davis hit some free throws there was only a Mike Dunleavy three to make the scores look close. Arron Afflalo continued a run of good play with 23 points to lead Orlando. —KH
Clippers 115, Spurs 92: This was the fifth game in seven nights for the Spurs and it showed — they got tired late and gave up a 20-4 run to a Clippers team that found the range and was 11-of-23 from beyond the arc. Blake Griffin had 10 of his 27 points in the second quarter, when the Clippers used a 19-0 run to take control of the game. Of course, the Spurs fought back but they didn't have the energy to sustain it. Manu Ginobili was the best of the Spurs with 16 points on 8-of-11 shooting. —KH