The soap opera that is the Knicks 2013-14 season continues.
J.R. Smith missed training camp with a knee injury then the start of the season following a league suspension (for testing positive for marijuana use for a third time).
After all that, he has never been able to find a groove this season — he is shooting just 34.2 percent this season (it was 42.2 percent last season). The Knicks need more offense and he has not been able to provide it this year.
Which led to a an in-game struggle Friday between him and coach Mike Woodson, followed by Smith intentionally going into a shell Friday, reports Frank Isola of the New York Daily News.
According to a team source, Woodson admonished Smith for poor shot selection during the Bulls game and then became upset over something Smith said on the bench. Woodson waited until after the game to express his disappointment with Smith's attitude and reminded the volatile shooting guard that he's been his strongest advocate for the past two seasons.

"Mike said that after all I've done for you I can't have you talking back to me like that," the source claimed. The same source added that Smith made a lewd comment that angered Woodson….

Saturday night, Smith scored two points, making just one shot on eight attempts in 24 minutes, and appeared to be benched in the fourth quarter of a 111-106 win over the Hawks at the Garden.
Smith was averaging 11.6 shots a game going into this game. And he is missing a lot, check out his shot chart from this season.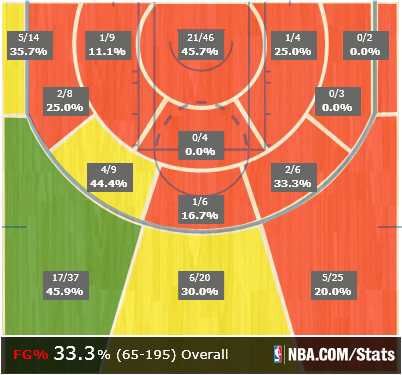 Saturday night in a Knicks win over the Hawks Smith took 8 shots, hitting just one.
Even after looking at all that, it strikes me as a slippery slope for Mike Woodson to start questioning any of his players' shot selection. That is especially true of Smith, who always has taken bad shots he just isn't making them with the same regularity now. Smith made those shots on his way to being Sixth Man of the Year last year, Woodson just needs to hope those shots start falling now.