The Denver Nuggets have been outscored in every first quarter they've played this month.
They've scored a little and fallen behind (22-18 to the Wizards on Monday night), scored a lot and still fallen behind (29-27 to the Nets on Dec. 3) and have just been plain routed (39-15 by the Celtics on Friday).
Yet, Denver has still gone 4-2 in December to bolster an impressive 13-8 overall record. Under first-year coach Brian Shaw, the Nuggets are definitely exceeding expectations, and there are many more reasons to be satisfied than not.
But Shaw is leaving nothing to chance.
Tom Schad for The Denver Post (hat tip: Kelly Dwyer of Ball Don't Lie):
Shaw has searched for answers to their offensive woes in the first quarters of games. Last week, he walked through the locker room, saw players eating pizza and nachos and believed the poor diet to be the cause. So he picked up all the junk food and threw it in the trash.

The Nuggets had fresh salads with chicken breast and cold cut sandwiches before Monday's game. The sluggish result was the same.

"We'll keep searching and seeking until we find (it)," Shaw said. "We just talk about the starters needing to start the game for us. Our bench has been tremendous really this whole season. They've bailed us out of a lot of situations."
First of all, I applaud Shaw's  attention to detail. That's the mark of a good coach.
Many coaches get so drawn into Xs and Os, they don't see the forest for the trees. Anyone who's ever eaten fast food knows how lethargic it can make you feel, and that very well could be a significant factor for Denver. Again, Shaw deserves credit for considering all angles.
But I'm not convinced the Nuggets even have a first-quarter problem, let alone one based on pregame meals.
Denver's offensive rating is actually better in the first quarter than overall, though it's defense slips to a greater degree than the offense improves. The Nuggets' first-quarter net rating (–0.6) is lower than its overall net rating (3.4), but 27 of 30 teams have at least one quarter where their net rating slips more than four points, including seven for which it happens in the first quarter.
There's just a natural variance that occurs, and overall, the Nuggets' first quarters seem to fit within it.
Really, Denver's worst quarter is its second. Here's the team's offensive rating (gold) and defensive rating (blue) by quarter with the dotted line representing the team team's overall mark in each category. The upper and lower bounds of the chart are set equal to the NBA's best (Trail Blazers) and worst (Bucks) overall offensive rating.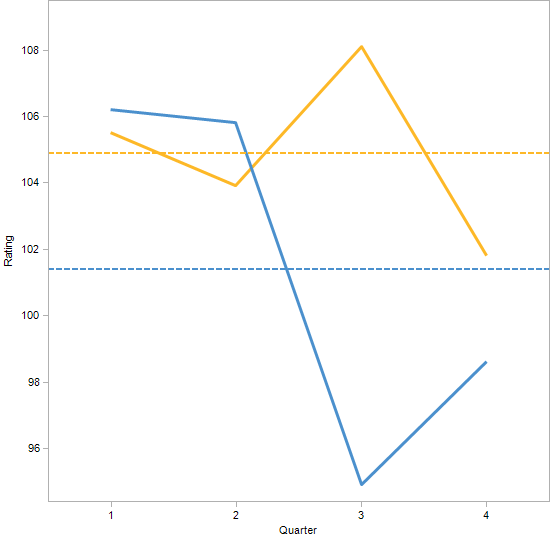 Of course, the stats don't tell everything. Shaw is better positioned to recognize when Denver's early errors could be attributed to the side effects of eating unhealthily. And he's especially well-suited to inform his players how to eat better – or at least refer them to someone who will.
But if his players push back and want their junk food, I don't think Shaw can say with certainty the Nuggets' first quarters are due to anything other than random variance. If they accept his change to the menu, then there's certainly no harm done.