Dana Barros, a little point guard out of Massachusetts who got to play for the Celtics as part of a 14-year NBA career, and while there he set a record:
Eighty-nine consecutive games with a made three.
If Kyle Korver knocks down a three Friday night when the Hawks host the Cleveland Cavaliers Korver will have knocked down a three in 90 consecutive games.
That is an insane streak. To give you a little perspective, Ray Allen has never gotten above 47 straight games and he is probably the greatest three-point shooter of all time. Stephen Curry got to 53 last seasons and his streak died. Third place on the list behind Barros and Korver is Peja Stojakovic at 62.
If you would like more convincing, just check out Korver's shot chart from three this season (Rob Mahoney at SI had this up):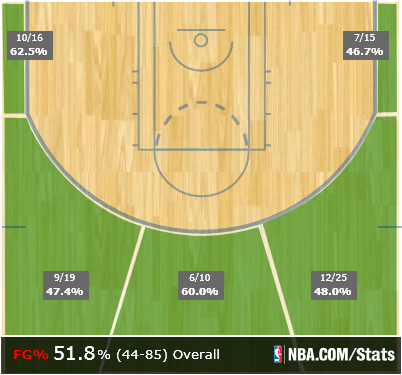 Korver has a quick release and a knack for finding space on the arc — he gets to a spot he can get the ball then gets the shot off before the defense makes a good contest. He is shooting 55.7 percent on catch-and-shoot threes this season on 4.9 attempts a game, according to the NBA's Sports VU player tracking cameras. It doesn't hurt to have Jeff Teague's drive-and-kick skills and a good passing big like Al Horford in the paint, either. Against the Clippers Wednesday night it worked to the tune of 6-of-9 from three and 23 points for Korver.
The Cavaliers are bottom 10 in the league in defending the three. This is about as good a chance as you could ask to break this record.
Not that it really matters who Korver is playing the way he knocks down threes.