DeMarcus Cousins sat out the Kings loss to the Thunder Tuesday night with an ankle injury. When asked if he would be ready to go Friday, he decided to play comedian.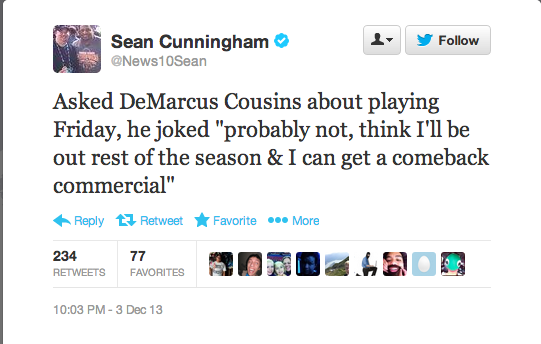 Don't tempt fate, DeMarcus.
Derrick Rose may not think it's funny but Cousins' comments sounded like a lot of people on twitter who have taken pot shots at Rose. I'd suggest DeMarcus take the high road, but i's his call.
Cousins is having the best season of his young career, averaging 21.7 points, 10.1 rebounds and 1.2 blocks a game. The consistency is still not there, but more and more he looks like the franchise anchor the Kings want, it's just the talent around him that's held the Kings back to a 4-2 record. Isaiah Thomas is in the early running for Sixth Man of the year and Ben McLemore has shown some promise, but there are a lot of things to work out for this team on the defensive side of the ball. Cousins needs to get healthy and be a big part of that change.