For struggling NBA teams (and even some not-so-bad ones) it's pretty common to see them sell the opponent coming to town. "Come see Kobe Bryant while you still can" or "Kevin Durant, Russell Westbrook and the high-flying Thunder are coming to town" is a pretty common pitch.
But the Timberwolves are taking it to a whole new level in trying to sell Dwyane Wade, LeBron James and the Miami Heat, as pointed out by Darren Rovell of ESPN.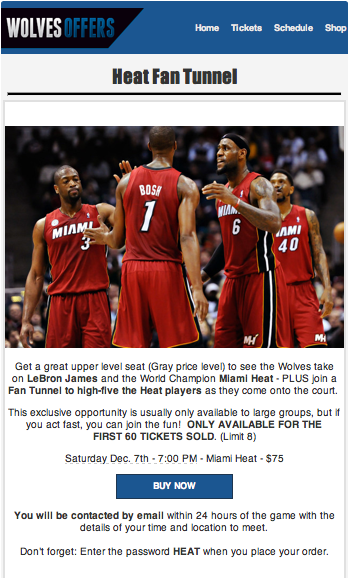 Let me make the obvious point here — the Timberwolves are really fun and a good team. Kevin Love, Ricky Rubio, Kevin Martin — this is a team I like to watch play on League Pass and will go to when they come to my town. People will pay to see them.
Yes, they are 8-9 to start the season but the Timberwolves have been a bit unlucky — their expected win-loss based on their point per possession differential is 11-6. Three game swing. Those kinds of things tend to correct themselves over the course of the season, Minnesota will eventually get some lucky wins. However, things could start to look worse over the next week with the Mavericks, Thunder, Spurs and Heat as the next four games.
Maybe you do need to sell the Heat a little.