Rudy Gay is struggling this season.
He is shooting 37.5 percent so far this season, averaging 19.4 points a game but taking 18.9 shots a game to get there. Tuesday night he was 3-of-12 from the floor with seven turnovers against the Nets weak defense. It felt like a low point for him.
So he took to the gym to try and shoot his way out of it, reports the Toronto Sun.
Gay got up 500 shots following Tuesday's last-second loss to Brooklyn.

"You just have to get back into the gym and get back to the basics. The only thing I could do after that game was to go out and shoot some jump shots. Get that out of my head and work on my game," Gay explained after a spirited practice Thursday.
Practicing his midrange jumpers wouldn't hurt, and to his credit Gay his hitting a respectable 39.6 percent of his threes this season (he's taking 3.4 a game). But look at his shot chart this season and you see the bigger problem is his finishing inside.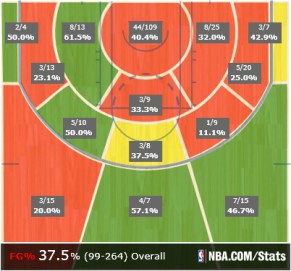 Gay is hitting 40.4 percent inside 8 feet and that's where 41.3 percent of his shots are taken. He's struggling to finish. He's shooting just 48.2 percent inside the restricted area.
Announcement: Pro Basketball Talk's partner FanDuel is hosting a one-day $40,000 Fantasy Basketball league for Friday night's games. It's $25 to join and first prize is $6,000. Starts at 7pm ET on Friday. Here's the FanDuel link.
Gay knows this is an issue right now but one he things will turn around for him.
"It's not something I'm going to stop doing. Obviously everybody wants a shot in the paint, (I) just haven't been making them. I will start making them, I can guarantee that," he said.
I think he's probably right here, his shooting will eventually find it's way back up closer to his career averages. Then we can all get back to debating his real value, but for now he's trying to shoot his way out of a slump.