When the Charlotte Bobcats change their name back to the Charlotte Hornets next year, you'll see some familiar colors out on the floor.
The Hornets have one of the most iconic and totally 90's jerseys, and it's good to see that Michael Jordan and company are reviving the old purple and teal color scheme.
When you think of the name "Hornets", you think of Larry Johnson (Grandmama!), Muggsy Bogues, Zo, and those beautiful, beautiful starter jackets.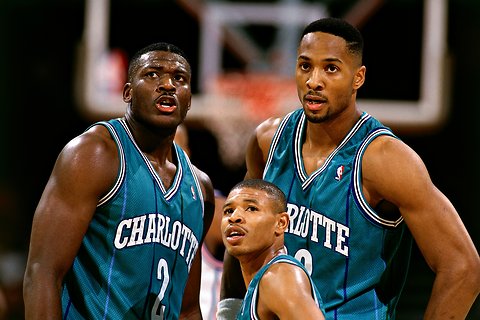 Appealing to nostalgic saps like me is a fine idea all around, and Jordan knows it. Here's what MJ had to say about the return of purple and teal in the team's press release:
"It was important to us to acknowledge the heritage of the Charlotte Hornets when bringing the name back to the market," said Jordan. "The purple and teal color scheme was instantly recognizable as being associated with the original Hornets and we felt it was only appropriate to utilize the colors once again with this historic brand."
The new (old?) color scheme will be accented by secondary colors of black, gray and light blue, because the people of North demand the inclusion of light blue in every single thing, ever.
I'm excited to see the return of the Hornets next season, even if it's probably going to confuse casual basketball fans a bit. So long as the Hornets bring back their old mascot along with the names and the color scheme, though, we all win.