With his team up 23 points and fewer than four minutes remaining against the Jazz on Monday, Warriors coach Mark Jackson pulled his top players in favor of Ognjen Kuzmic, Marreese Speights, Nemanja Nedovic, Kent Bazemore and Draymond Green (who was replaced by Dewayne Dedmon a few seconds later).
Promptly, those five reserves ceded a 12-0 run, and Jackson benched all five.
Jackson, via Monte Poole of CSN Bay Area:
"I wanted to make sure my guys were fine, that they were still loose," Jackson said. "Once they said they were fine, it wasn't a tough decision at all. I'm not into embarrassing any one of my guys, but if you continue to put forth embarrassing effort, you leave me no choice."
"Somebody's always watching," he said. "And you never know when you earn a job because of the performance you put forth with two minutes or three minutes or five minutes to go in the game. Disappointed in those guys. They own it, and we move forward."
Like most teams, the Warriors are better when their starters play and worse when their reserves play. But the the drop is especially stark.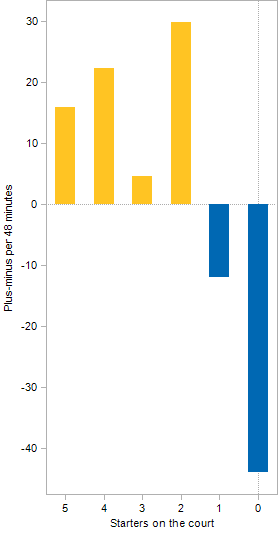 When all five starters play, the Warriors are very good. They're even better with four starters, lineups including super-sub Harrison Barnes accounting for much of the positive production. In much smaller samples, three-starter lineups are fine and two-starter lineups are excellent.
But when just one starter or no starter takes the court, it's a disaster.
Announcement: Pro Basketball Talk's partner FanDuel is hosting a one-day $80,000 Fantasy Basketball league for Wednesday night's games. It's $25 to join and first prize is $9,000. Starts at 7pm ET on Wednesday. Here's the link.
Monday, the Warriors' 12-point lead with 1:12 left was 100 percent safe, according "The Bill James Lead Calculator." Jackson didn't need to pull his reserves to preserve a win. 
But considering the injury histories of Stephen Curry and Andrew Bogut, there will be many more times Jackson wants to sit his starters late in a slightly closer game. This was a good lesson to increase the viability of doing that.