I was the only member of this site's staff to predict the Trail Blazers would make the playoffs. Now, Portland is 8-2, the NBA's third-best record behind only the Spurs and Pacers.
Time to gloat?
Not quite.
The Trail Blazers started 20-15 last season, heavily relying on their starting lineup. At that point of the season, Portland's starters played 72 percent of the team's minutes, tops in the league. That heavy load proved too taxing, as the Trail Blazers faded to a 33-49 finish.
A year later, the starters have changed, but Portland coach Terry Stotts is using the same strategy. Damian Lillard, Wesley Matthews, Nicolas Batum, LaMarcus Aldridge and Robin Lopez – the Trail Blazers' starters in all 10 games – have played 72 percent of the team's minutes, again No. 1 in the NBA.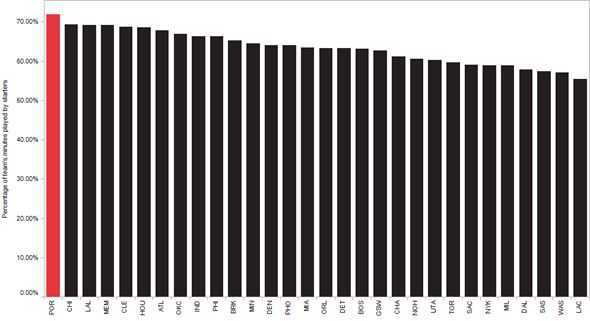 Announcement: Pro Basketball Talk's partner FanDuel is hosting a one-day $15,000 Fantasy Basketball league for Monday night's games. It's just $10 to join and first prize is $2,000. Starts at 7:30pm ET. Here's the link.
There are encouraging signs for the Trail Blazers, though.
Mo Williams, acquired as a free agent this summer, has played much more (26.9 minutes per game) than any Portland reserve did last season. Dorell Wright (14.4 minutes per game) has shot well and could probably handle more minutes. Thomas Robinson has shown flashes, and maybe he could fill a bigger role, too. C.J. McCollum has been injured, but later in the season, perhaps he carves out a spot in the rotation.
And maybe after doing it last year, Lillard, Matthews, Batum and Aldridge are more equipped to handle big minutes.
It would be extremely presumptuous to assume the Trail Blazers will fade like last season. But, once again, they're going to have to deal with their starters playing a ton of minutes.
It's not an insurmountable challenge, but it's a challenge they didn't meet last year.