Our grades from around the NBA Thursday night, or what you missed while figuring out how to win at The Price is Right…
Andrea Bargnani, New York Knicks. He's played a few good games in a row now… I'm still not fully going to buy into him yet but if you want to make the case he's finding his groove you have a legit argument. Bargnani finished with 24 pints on 9-of-12 shooting plus he played good man defense in the post against Dwight Howard. He's not getting an A because his help defense was non-existent and that's one of the reasons the Rockets won, but he played a generally good game.

Carmelo Anthony, New York Knicks. It was basically Carmelo Anthony vs. the Rockets — and Anthony almost won. Check out his shot chart from the first half.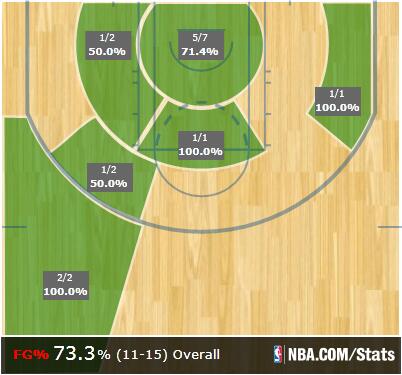 Anthony finished with 45 points on 17-of-30 shooting, he had 10 boards, and if you ask me that was a continuation foul with five seconds left (Harden did get an early slap and bump in there but those didn't strike me as a fouls you call that late in the game, plus you could argue 'Melo had started his motion). Anthony is going to have to carry this team for a while and this kind of effort would have won most nights.

Dwight Howard, Houston Rockets. He got pushed out of his position and couldn't get comfortable in the post; he couldn't get the ball and make plays, while guarded by Andrea Bargnani. The Knicks did throw doubles at him in the first half trying to get the ball out of his hands (which worked but just opened driving lanes) but by the second half Knicks coach Mike Woodson thought just Bargnani would be enough to control the guy thought of as the best center in the game. And it was. Howard can't disappear like that on offense. His grade bumps up thanks to his 15 rebounds and defensive presence, but we expect more.

Andre Iguodala, Golden State Warriors. Grades can come down to how you did on your finals. How did Iguodala do on his final shot?

Russell Westbrook, Oklahoma City Thunder. Anyone want to tell me again how he is not all the way back? This was his best game since his return, with 31 points hitting 13-of-20 shots, plus 9 rebounds and 5 assists. Plus he almost had a game winner, if Iguodala hadn't spoiled everything. It's just good to see Westbrook back and playing like this.