Chances are at some point this season, you've heard about SportVU.
For the uninitiated, SportVU is a player tracking software that utilizes cameras positioned around the court to collect all sorts of data. It's a major breakthrough for analytics, and while a good portion of teams have had the software and data for a few years, now SportVU is in every NBA arena.
Even better, us common folk now have access to a lot of the data thanks to NBA.com's impressive stat site.
Drawing hard conclusions from these numbers so early is a dangerous exercise, as dealing with sample sizes this small is generally frowned upon.
But, you know, that's no fun. Let's take an early look at some of the new data out there and see if the initial numbers match up with some common perceptions.
To remove a few of the outliers, we've filtered out any player who has played in less than four games and averaged less than ten minutes a night. Basically, for the sake of this exercise, garbage time is played on another planet and doesn't factor in.
To the SportVU goodness:
Fastest Average Speed
The average speed in miles per hour of all movements (sprinting, jogging, standing, walking, backwards and forwards) by a player while on the court.
Leader: Patty Mills at 4.9 MPH
Well how about that? I was torn between choosing Wall and Tony Parker as my guess before finding the answer, but it's actually Parker's backup who is moving at the fastest average pace in the league.
This makes some sense, particularly when you factor in the way point guards fly around screens and move without the ball quite a bit in San Antonio's offense. It's probably not a coincidence that Mills, Danny Green (6th) and Parker (7th) are all in the top-10 for fastest average speed.
Mills is also the leader in distance traveled per 48 minutes at 3.9 miles. Bradley Beal leads all players in actual miles traveled per game at 2.9, which is almost like sprinting, cutting, and banging your way through a 5k (3.1 miles) every night. Fun!
Touches Per Game
The number of times a player touches and possesses the ball.
Leader: Chris Paul at 103.3 times per game.
Looking off Chris Paul and running the offense without him? Strictly prohibited.
Paul likes to control every aspect of the game while he's on the court, and the best way to do that as a 6-foot-1 guard is to almost solely take care of the ball the entire game. The other players on the roster know where their bread is buttered.
Here's something fun: the top-15 players in touches per game are all point guards…except for Kevin Love. Thanks in large part to his massive efforts on the glass, Love gets his hands on the ball 91.5 times per game, good for fourth among all players.
Here's another thing you would probably never guess: Derrick Favors (76.9 times) is touching the ball more than LeBron James (72.8) this season. Might want to fix that, Miami.
SportVU also tracks where players are getting their touches, which might be the most useful stat of them all. Nikola Pekovic leads the league in touches within 12 feet of the basket, while Marc Gasol gets a whopping 16.4 touches at the elbow per game, which is over five times more than the next closest player (Anderson Varejao).
Points per half court touch is another neat way to see who is really looking to score whenever they get it. That's a category dominated almost entirely by big men who live in the paint and pure spot-up shooters, which makes sense.
Points Created By Assist
Points created by a player through their assists per 48 minutes.
Leader: Chris Paul at 38.7 points created by assist per 48 minutes
Breaking: Chris Paul is good at basketball.
Next in line to the throne? Believe it or not, it's Jeff Teague.
Teague has really progressed as a distributor over the years, and now that he has the ball in his hands more than ever before, he's creating tons of open looks with all that speed.
This list tends to favor guys who can break down a defense, as players like John Wall and Eric Bledsoe rank in the top-10 along with passing mavens like Ricky Rubio.
Other than Teague, the biggest surprise on this list was Stephen Curry, who currently ranks 5th in the league in points created by assist per 48 minutes. Playing next to catch-and-shoot, 3-point machine like Klay Thompson doesn't hurt, but it does go to show that Curry is underrated at breaking a defense down and finding wide open shooters.
We could probably go all day with this, dear reader, so let me supply you with a link to where all this great information lives and humbly step out of the way. Remember: just open an Excel sheet before you fall down the rabbit hole. Bosses love Excel sheets.
–D.J. Foster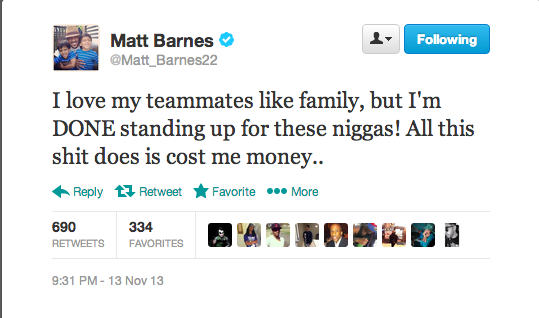 (Editor's note: This was an in-game tweet from Matt Barnes' twitter account after he was ejected for shoving Serge Ibaka Wednesday night in an incident involving Blake Griffin. We put up an image of this rather than the tweet itself because of expectations it would be pulled. My apologies if the language offends.)

Jazz 111, Pelicans 105: Jazz win! Jazz win! Jazz win! Utah got their first win of the season with a hot offensive night — they shot 51.4 percent overall and hit 9-of-22 from three. Gordon Hayward led the way with 11 of his 27 in the fourth quarter as the Jazz made a couple of key runs in the fourth, one 7-0 midway through then a 7-2 when the game was tight late. Enes Kanter had 21 and 10. Anthony Davis continued to be a stud — 29 and 15 — but New Orleans couldn't stop Utah down the stretch and lost because of it. — Kurt Helin
Orlando 94, Milwaukee 91: The Bucks led this game by as many as 19 points in the second quarter before the Magic turned this one around, and it was a career night from Arron Afflalo that was the difference. Afflalo finished with 36 points, eight rebounds and six assists, but scored 29 of those points in the second half which included his hitting 7-of-9 from three-point distance. The Bucks had a chance to tie on the final possession, but after receiving a dribble handoff from Nate Wolters, O.J. Mayo was quickly double-teamed and ended up turning it over trying to pass out of it. — Brett Pollakoff
Philadelphia 123, Houston 117 (OT): This was a really fun game, despite the absence of a notable star on each side. James Harden sat out with a foot injury for the Rockets, and Michael Carter-Williams missed this one with a bruised left arch. The players that remained put on a show, with Jeremy Lin lured in 34 points thanks to 9-of-15 shooting from three-point distance, and James Anderson finished with 36 for the Sixers, including this huge shot which sent the game to OT. It came down to the final few possessions, and a late turnover from Dwight Howard helped seal Philadelphia's fifth win of the season. — BP
San Antonio 92, Washington 79: Tim Duncan was 1-of-12 from the field and finished with just two points in 26 minutes, and yet the Spurs still won easily with six other players in double figures. The only thing worth noting on the Wizards side is that Trevor Ariza left the game with a hamstring injury, and although Martell Webster stepped in nicely with 21 points in his absence, Ariza was off to a solid start to the season and this could be more bad news in Washington. — BP
Portland 90, Phoenix 89: This one went down to the wire, and Damian Lillard made sure it ended in the win column for the Blazers with his driving layup through a wide-open lane with six seconds remaining. Marcus Morris was the closest defender, but he remained frozen for some reason, apparently hesitant to cut off the guy flying to the rim for an uncontested look at the game-winning shot. Suns fans want to complain about a missed goaltending call by the officials on their final crack at a buzzer-beater, but no one is going to make that call in that situation, especially when P.J. Tucker and Markieff Morris had point blank looks and just couldn't finish. –BP
L.A. Clippers 111, Thunder 103: The Clippers took control following the ejection of Serge Ibaka with 6.2 seconds left in the first half. The Thunder were getting whatever they wanted offensively until that point, so trading Matt Barnes (who was also ejected) for Ibaka on this night proved to be a most favorable strategy. — BP
Nuggets 111, Lakers 99: The Lakers were on the toughest back-to-back in the league (West Coast one night, at altitude in Denver the next). Combine the Lakers tired legs, the fact they don't really play good defense anyway, and how Denver pushed the pace (102 possessions) and Los Angeles just wore down. Kenneth Faried showed why other teams might want him in a trade with 23 points and 11 rebounds; Timofey Mozgov added 23 for Denver. Pau Gasol had 25 for the Lakers but needed 27 shots to get there. –-KH
Bobcats 89, Celtics 83: So much for that four-game winning streak. Charlotte raced out to an 18-8 lead and while this was never a blowout the Celtics never recovered from that. Al Jefferson had 22 points for the Bobcats as Boston had no answer for him in the paint (they missed Jared Sullinger in the paint). Boston isn't good enough to take a night off, a lesson Charlotte seems to have already learned.--KH
Knicks 95, Hawks 91: Knicks owner James Dolan guaranteed a win Wednesday and hit got it, so everything should be fine in New York… for a day or so. Carmelo Anthony was hot early with 10 first quarter points (he finished with 25) and by the second the Knicks were up by 17. Then in the third the Hawks came back behind Al Horford (10 of his 23 were in the quarter) and took the lead during a 15-2 run. In the fourth Andrea Bargnani played well (not on defense, of course, but he had 8 points and he tried to rebound) and helped the Knicks get the win. The biggest thing is the Knicks defense wasn't bad.--KH
Timberwolves 124, Cavaliers 95: This was a rout from early on — Ricky Rubio had 10 points and 8 assists in the first quarter, Corey Brewer leaked out on the break to 12 points in the first, and this was pretty much over. Minnesota hit 11-of-22 from three and shot 54.9 percent overall. They did whatever they wanted.--KH
Raptors 103, Grizzlies 87: Memphis has some real defensive issues when the Raptors can come in and drop 103 on them (and put up 116 points per 100 possessions). Kyle Lowry set the offense up and had 21 points on 10 shots, while Rudy Gay had 23 (on a not terrible 8-of-18 shooting, that's an improvement). Memphis was willing to let Gay shoot the jumper and he was 4-of-6 from deep and made them pay, hitting some key ones when Memphis would make a little push. Mike Conley had 29 points to lead Memphis, but it wasn't enough the way they defended. –-KH