Matt Barnes has apologized.
Wednesday night when the Thunder's Serge Ibaka and the Clippers' Blake Griffin got tangled up, Barnes rushed to Griffin's defense and shoved Ibaka. The result was an ejection and you can bet a suspension from the league will follow (Ibaka was ejected as well, Griffin got a technical).
That suspension for Barnes is going to be aggravated by what he tweeted after the game (and since deleted):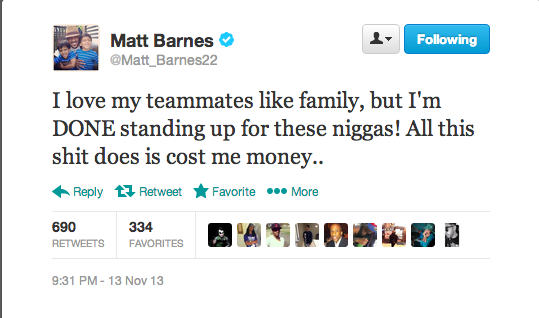 (Yes, that comes off as a frustrated shot at Griffin to me, too.)
Thursday Barnes took to twitter to apologize.
Barnes is the kind of guy you want on your team but hate to play against — feisty, committed, defends and is well liked in the locker room. Every team could use a guy like that. (I'll admit my bias here, in my dealings with him he has been professional and thoughtful. I like him.)
All of that and the apology are great, but it's not going to help him much when the league comes down on him.