LOS ANGELES — This happens a few games a season.
It was a perfect storm of the already explosive Clippers offense really finding its flow in an up-tempo game, a Rockets defense that was just floundering, some foul trouble to the Rockets defensive anchor, and to top it all off Chris Paul had the Midas touch.
The result was a highlight-filled blowout, a 137-118 Clippers blowout win that the fans in Staples Center could really savor. They got to boo Dwight Howard lustily — when he wasn't on the bench with foul trouble — and they got the full compliment of highlight alley-oops, impressive handles and long-range threes.
"It was one of those games," Clippers coach Doc Rivers said. "Everything. We were making everything. They were in foul trouble. It was for us tonight, a lot of things went right.
The Clippers have the best offense in the NBA this young season — they are averaging a ridiculous 116.6 points per 100 possessions after this game. They have been hot all season on that end but the 125 points per 100 they put up this game — they shot 52.1 percent overall and hit 15-of-38 from three — bolstered that number.
"They had 15 threes and a ton of paint points (50), they had the best of both worlds," Rockets coach Kevin McHale said. "We wanted to keep them out of the paint and shoot long jump shots. We didn't do that."
The route started started from the opening tip, where the Clippers came out sharp and the Rockets looked like they enjoyed the night out in Los Angeles the night before a little too much. Early on the Clippers started running J.J. Redick off screens like he's vintage Ray Allen and James Harden did not want to fight through them. Harden was a few steps slow and the result was 15 first quarter points for Redick as the Clippers just kept going to his hot hand.
"I've always been a guy who bases his game on movement and moving without the ball," Redick said.
Pretty soon everyone on the Clippers got a hot hand — Los Angeles put up 42 points on 69.6 percent shooting (4-of-6 from three) in the first quarter. CP3 had 9 assists in the first 12 minutes and the Clippers were so hot even Blake Griffin nailed a couple midrange jumpers. The Clippers put up a franchise record 78 points in the first 24 minutes, and check out their shot chart from the first half.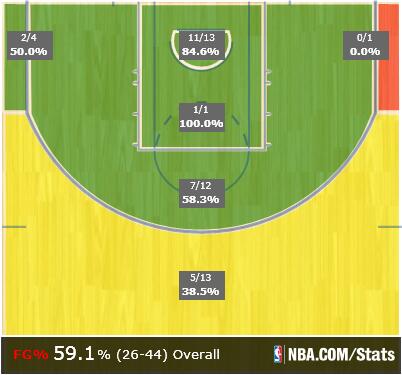 The Clippers were up 17 after one and while the Rockets tried to make a game of it with some runs, all that was left was to put on a show. Which they did.
In the end Chris Paul had 23 points and 17 assists, Redick had 26 points, Jamal Crawford 21 and seven Clippers were in double figures.
Credit the Rockets for not giving up, they cut the lead down to 10 or 8 a few times, but each times the Clippers responded.
CP3 abused Jeremy Lin with a stepback then drove past him. Redick just took Harden off the dribble. The Clippers would get out and run and the Rockets transition defense was nonexistent.
While it was not the team he played for Howard's return to Los Angeles still got him getting booed from the opening introductions, followed by a rough night. He picked up two quick fouls and three in the first quarter, limiting him to 6:27 in the first half.
"The foul trouble messed me up a little bit but I just tried to have a better second half," Howard said. "I missed a lot of easy shots tonight."
As for the booing?
"I don't care, they can boo me a million times and I'll still play," Howard said, who went on to repeat his standard lines about moving on from his decision and feeling happy now.
Just not so much after that loss.