Last season the Chicago Bulls and Memphis Grizzlies make playoff runs (Chicago to the second round, Memphis to the conference finals) based on defense. Both teams had enough offense to get the job done even if it wasn't pretty (and it often wasn't), but these were teams built around suffocating defense. That was their identity.
Which has made the start of this season odd in Chicago and Memphis.
You can't draw sweeping conclusions from just three games, but it's worth noting that so far the Chicago Bulls have been pedestrian while the Grizzlies have just been outright bad on the defensive end.
Chicago is allowing 100.7 points per 100 possessions so far, which is 15th in the NBA. Middle of the pack. Average. Not very Tom Thibodeau like.
That's better than the Grizzlies, who are giving up 108.2, 29th in the NBA.
Memphis underwent a coaching change last summer — Dave Joerger was in, replacing Lionel Hollins for whom he had been the lead assistant. The hope with the move was someone who worked better with management, would keep the same defensive system in place while finding a way to add a little fluidity to the grit-and-grind offense that makes Memphis a team other teams hate to play against.
The offense is different, there is more movement, but with the focus on that end of the court the defense seems to have suffered. Check out this Zach Randolph quote from the Memphis Commercial Appeal.
"This ain't us," Griz forward Zach Randolph said. "I don't know if we're focusing on the offense or not, but we're a defensive team and that's what we've got to hang our hats on. And another thing is we've got to come out faster."
Opponents are shooting 46.5 percent against Memphis, the seventh highest percentage allowed so far, but the real killer is teams are shooting 41.7 percent from three. The Grizzlies with that big front line led by Marc Gasol are still doing a solid job protecting the paint, but look at where the damage comes on their opponents' shot chart.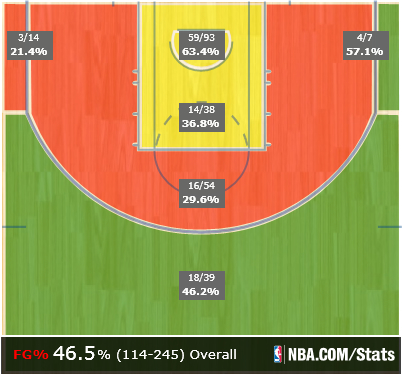 As for Chicago, the Bulls are getting beat more in transition and just on lack of focus issues — when the Sixers were storming back to beat the Bulls Saturday Jimmy Butler twice but burned on backdoor cuts. That's not typical of the Bulls defense, which is known for its multiple efforts. Here is what coach Thibodeau said to the Chicago Tribune after Saturday's loss.
"You have to get back as a team," Thibodeau said. "You have to get set as a team. You have to communicate and respond to that communication. You have to finish your defense. It requires multiple efforts. If you don't do that, you're in trouble in this league."
The good news if you're a Bulls fans is that the 100.7 per 100 possessions allowed so far is not far off last season's mark of 100.3, which was fifth best in the NBA. To start this season some teams are off to a hot defensive start, many of those squads will come back to earth while the Bulls can improve.
It just seems there are lot of things that need to get turned around in Chicago right now, and we didn't expect the defense to be one of them.