Josh Smith, Greg Monroe and Andre Drummond – arguably the NBA's most intriguing front line – combined for 55 points, 29 rebounds and nine assists in the Pistons' season-opening victory over the Wizards.
That alone doesn't answer all the questions about how they fit together, but it at least quells some of the doubt.
However, the trio's success didn't all come together. The Pistons outscored the Wizards when the three played together, but Detroit actually played better when one – and exactly one – sat.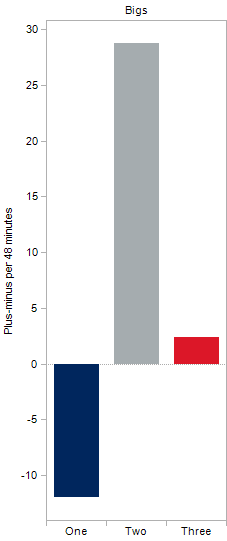 Of course, that doesn't tell the whole story. There are three different two-big groups the Pistons can use and three different one-big groups. Here's how each that Maurice Cheeks used against Washington performed:
It's important to remember this is a small sample, and Cheeks is using lineups that he believes have the best chance given whom the opponent has on the floor. We need a lot more data before drawing any conclusions.
But the early returns support what many, myself included, believed before the season. The primary value of having Smith, Monroe and Drummond comes from putting two of them on the court for most of the game rather than using all three at once. There are times when all three sharing the court is advantageous, but that's secondary, and if the Pistons rely on using all three at once, it could be problematic.
It's early, though, and this is just one data of point of many yet to come.