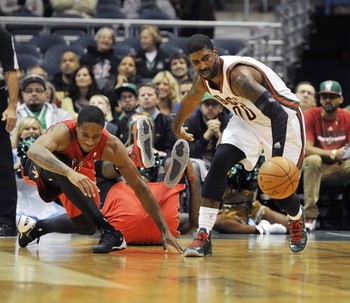 The Bucks unveiled a new court design this offseason, one that gave a nod to the artistic look of the one at the old Mecca many years ago.
But the team may have focused too much on looks and not enough on functionality, at least initially.
The surface was deemed too slippery to play upon, and Friday night's preseason game between the Bucks and the Raptors was canceled due to unsafe conditions midway through the first quarter.
From Doug Smith of the Toronto Star:
"It was terrible, I was really scared," [DeMar DeRozan] said after the Raptors' pre-season came to an unusual conclusion with their game against the Milwaukee Bucks abandoned after just over six minutes of the first quarter. …

The new court and the wax-like treatment was like an ice rink in some parts, with players slipping and sliding all over the place.

"We saw the players were having issues with traction," officiating crew chief Danny Crawford told a pool reporter. "Then when we had a few guys go down, we figured we should have a conference. And both teams wanted not to continue the game."
In what was the final preseason game for both teams, no harm done in calling it off if players couldn't be guaranteed of a safe environment in which to play.
Milwaukee will have eight days to make it right, as they'll host the Raptors in their home opener on Saturday, November 2.