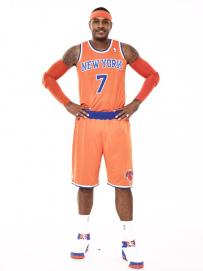 I will work hard to avoid the easy Halloween/pumpkin jokes here…
What you see to the right is Carmelo Anthony modeling the Knicks new alternate orange jerseys, which they unveiled on Friday. Orange with blue and white has long been part of the Knicks color scheme, but this takes the orange up to a new level. Turns it up to 11, really.
At least it doesn't have sleeves.
Over at the Knicks Web site you watch a video about the orange jerseys, plus of course you can purchase them at NYKnicksstore.com, because what's the purpose of an alternate jersey if not to sell more jerseys?
This comes out one day after the Spurs unveiled a new camo, military-inspired uniform.
So, which one of these alternates would you buy:
Hat tip to Dan Devine at Ball Don't Lie, who would totally wear an orange/camo combo uniform.