Giannis Antetokounmpo is a project — a guy with a fantastic frame, great athleticism and he's shown a few skills this preseason, but it's going to be a couple years before we know just how good the young Greek can be.
What we do know now: He has freakishly large hands.
All weekend NBA twitter was buzzing about this screenshot of Antetokounmpo from a Bucks game.
https://twitter.com/Marco_Romo/status/390230453149368320/photo/1
But over at Bucksketball they have the real photographic proof (hat tip to All Ball):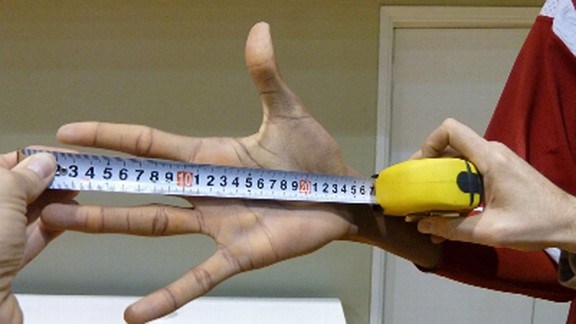 On the list of things you can't teach, that's pretty much at the top.
Antetokounmpo has shown some flashes this preseason, let's hope Larry Drew doesn't bury him on the bench this year — let him learn in some game action. Let him get some run. And with that, let us fans have some fun watching him grow.