If you really want to be like Mike, drinking Gatorade isn't enough. You need to buy his home.
Michael Jordan's Chicago mansion — and that really doesn't do it justice, this is a compound — will be auctioned off next month, reports the Wall Street Journal (its readership might be able to afford the home).
He recently had it on the market for $21 million, according to the report. Now he's just getting rid of it. (Hat tip to Eye on Basketball.)
The basketball star lived in the home for nearly 20 years. In an email, he said he is selling the home because "my kids are grown now and I don't need a large house in Chicago." The owner of basketball team the Charlotte Bobcats, Mr. Jordan said he splits his time between the team's base in North Carolina and a new home he built in Jupiter, Fla. "It was time for some warmer weather down at my new home in Florida," added Mr. Jordan, who said he also has a vacation home in Utah.

The 7.39-acre property is in Highland Park, a suburb 30 minutes north of Chicago. The contemporary-style home has nine bedrooms and 19 bathrooms. According to the auction company, it also has a three-bedroom guest wing, an outdoor tennis court, pool pavilion and entertaining area, a deep water pond, putting green and three climate-controlled multicar garages.
What, no shark tank?
Of course, there also is a basketball court.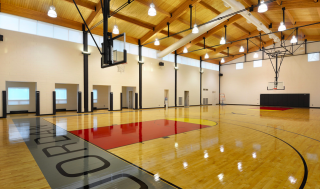 New York-based Concierge Auctions will conduct the live auction on Nov. 22. I would totally buy it but I'm already booked that day, so it's all yours.