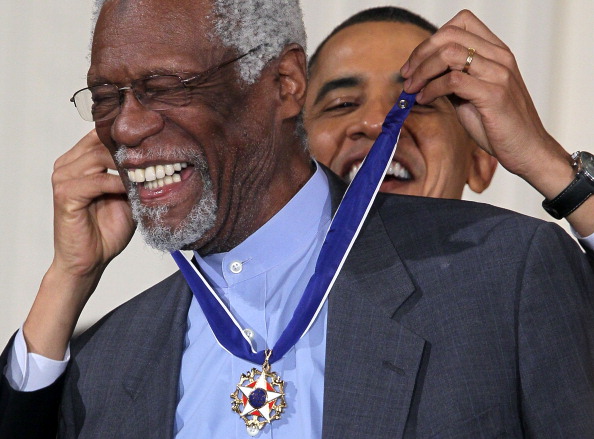 There have been an incredible number of great Boston Celtics in the history of the storied franchise, but legendary big man Bill Russell might have been the greatest of them all.
Russell's career spanned 13 seasons in Boston, and 11 of those ended with NBA championships. He's being honored with a statue to memorialize his contributions to the game, and it will be unveiled in a ceremony on November 1.
From the official release:
In 2011, President Barack Obama gave Bill Russell the highest civilian honor, the Presidential Medal of Freedom. During the ceremony, President Obama said he hoped that Boston would build a statue of Russell, "I hope that one day in the streets of Boston, children will look up at a statue built not only to Bill Russell the player, but Bill Russell the man." … The artwork represents Bill Russell the whole man, honoring him as an athlete, coach, human rights activist, ground breaker and mentor. The larger than life sculpture of Russell is on a low base in game action, poised with basketball in hand about to pass the ball to a teammate. He aims towards a low-standing, open stone engraved with Mr. Russell's quote, "The most important measure of how good a game I'd played was how much better I'd made my teammates play." As visitors step up on the open base, ready to catch the pass, they become a teammate, not only in the game of basketball, but in continued advocacy for human rights and mentorship programming. Ten granite blocks, surround Russell for a total of 11 elements representing Mr. Russell's 11 championships with the Boston Celtics. Each plinth features a key word and a corresponding quotation to illuminate the myriad of accomplishments spanning Mr. Russell's career both on and off the court. The artwork is inscribed in a field of brick and granite pavers that reflect the proportions of a court.
The unveiling will take place at City Hall Plaza, after a short ceremony that will begin at 2 p.m. local time. The rebuilding Celtics have their home opener later that night against the Milwaukee Bucks.