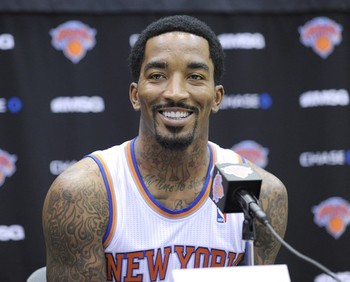 J.R. Smith won the Sixth Man of the Year award coming off the bench for the Knicks last season, and was an important reason why the team was potent enough to finish with the second best record in the East.
This season, however, Smith would like a new challenge.
From Ian Begley of ESPN New York:
"I've always wanted to start. Everybody knows that," Smith said. "I won the Sixth Man [Award] last year, so I felt as though there's nothing left to prove at the sixth-man spot. But at the same time, if that's what my team needs me to do, that's what I'll do. If Coach wants me to be a sixth man, I'll be a sixth man. If he wants me to start, I'll start. That's up to him."
Iman Shumpert is going to start for New York for a minimum of five regular season games, because that's the length of Smith's league-mandated suspension for multiple violations of the NBA's drug policy.
There's also the little fact of Smith's offseason knee surgery, which still has him sidelined from a health standpoint.
Knicks head coach Mike Woodson has publicly said he's considering starting Smith when he returns, but that seems like more of a motivational tactic with Shumpert than anything else. The reality is that New York needs Shumpert's defense in its starting lineup more than the team needs Smith's scoring there, so despite J.R.'s wishes, the starting spot would appear to be Shumpert's to lose.