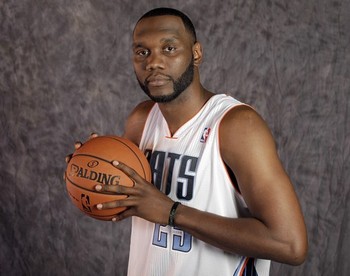 It didn't look good at all when All Jefferson had to be helped from the floor after suffering a sprained ankle during the Bobcats' preseason game against the Heat on Friday.
A day later, the severity was confirmed, with Jefferson in a walking boot and targeting a return to the floor for the regular season opener that's nearly three weeks away.
From the Associated Press:
"I'm going to do my best to be back for opening night," Jefferson said before the Bobcats played the Milwaukee Bucks on Saturday night. "I'm going to take it one day at a time and go through the process. I've sprained my ankle so many times, I just know how it goes."

He limped into the Bradley Center on Saturday using crutches and wearing a walking boot. He'll wear the boot for several days before the ankle is re-evaluated. X-rays taken at the Sprint Center were negative.

"Obviously, it's not ideal, but it's part of being on a team," Bobcats coach Steve Clifford said. "It changes a little bit in terms of our master plan in terms of how we would implement offense, the order we would go. We'd been spending a lot of time obviously on the post-up aspect of it."
The signing of Jefferson in the offseason was done in order to add a stable, consistent contributor to a team that's been essentially terrible over the last several seasons. In three out of the last four years, Jefferson has missed only a very few games, and even played all 82 in 2011.
He hasn't missed any contests that count just yet, and the Bobcats certainly hope that'll continue to be the case, considering Jefferson is just beginning the first season of a contract that will pay him $40 million over the next three years.