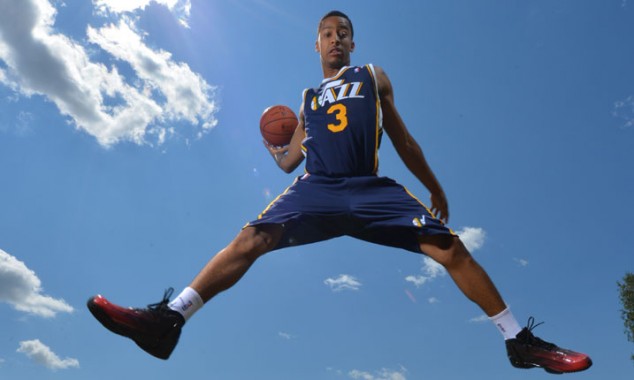 Welcome to PBT's regular roundtable on issues around the NBA, where our writers weigh in on the topic of the day.
Today: Who will win the NBA Rookie of the Year Award?
Kurt Helin: There's a formula to this — you need a guy with the ball in his hand on a bad team that is going to ask him to make plays and put up numbers. Damian Lillard did that last season, and seven of the last eight ROY winners fit that formula (Blake Griffin being the exception). The guy that fits the mold for me this year is Trey Burke in Utah. He is going to be the starting point guard for a bad Jazz team that will need him to make plays. And we saw from his time at Michigan he can make some plays. Utah could use a win here too — it will be about the lone piece of good news out of their season.
Brett Pollakoff: I agree on the formula part, but am going with a more conventional choice. Victor Oladipo in Orlando is skilled enough, and will have plenty of opportunity with the ball in his hands playing both guard positions. He should have no trouble putting up numbers immediately in the Magic's system, whether points or assists.
Burke is a solid choice, though Im not convinced Tyrone Corbin (coaching without a net, by the way) will let him go as unchecked as Lillard was allowed to in Portland last season — especially without the same skills as a floor general that Lillard possesses.
DJ Foster: Kurt, you're right about the formula. On top of that, no player selected outside of the top-10 has won the award since Mark Jackson (he's a coach now! We're all so old!) did it way back in 1988. So if we stick with guards taken in the top-10, Trey Burke is the most logical choice. C.J. McCollum is hurt, Michael Carter-Williams will play on a team only people in hostage situations should watch, and Victor Oladipo's contributions won't pop out on a losing team. It's Burke's award to lose, in my mind.
Darius Soriano: Not only do I agree with Kurt's formula, I also agree with the rest of the group that Burke and Oladipo are the frontrunners to win the award. If I had to choose between those two, I'd go with Burke simply because I think Oladipo will be competing for shots with too many other wings in Orlando for much of this season. Not only are Jameer Nelson and Arron Afflalo likely to maintain key roles, but Tobias Harris and Maurice Harkless are both up and coming prospects who flashed good potential last year (especially Harris). That's a lot of mouths to feed on the perimeter and I envision Oladipo settling into a role where he mostly impacts the game on defense and by doing the dirty work that helped define his college career. That may help his team win games, but it won't get him the rookie of the year award.