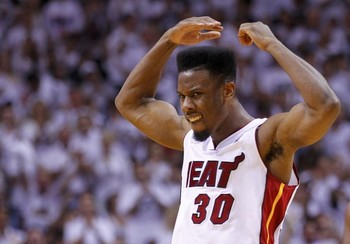 Norris Cole is entering his third NBA season, but has already proven to be a key contributor on two straight championship teams for the Heat. Not surprisingly, since he's still playing out his rookie contract and is considered to be still-developing talent at an extremely low price, Miami exercised its option to keep Cole under contract for the 2014-15 season.
From the official release:
Cole has appeared in 145 career games (six starts) and averaged 6.1 points, 2.0 assists, 1.5 rebounds and 19.7 minutes while shooting 40.7 percent from the field. Last season, he led the Miami reserves in assists 37 times, steals on 29 occasions, points 12 times and in rebounds and minutes six times each. In his two seasons with the HEAT, Cole has helped Miami capture back-to-back NBA championships, appearing in 40 postseason games while averaging 4.1 points, 1.4 assists and 1.2 rebounds in 14.7 minutes of action.

Cole was originally drafted by Minnesota in the first round (28th overall) of the 2011 NBA Draft before his draft rights were acquired by the HEAT in a draft night trade.
Under the rookie scale, Cole is set to make just over $2 million in 2014-15, and will need to have a qualifying offer extended of just over $3 million the following season for Miami to retain his rights as a restricted free agent (salary data via HoopsWorld).
This move was a mere formality, but it doesn't come without a level of interest.
By now you're probably aware that LeBron James, Dwyane Wade, and Chris Bosh can all opt out of their contracts next summer to become unrestricted free agents, or (more likely) sign longer-term deals to stay in Miami. The Heat brain trust set up the rest of the contracts on the roster with this not-so-small fact in mind, and up until today, no one was guaranteed a single dollar of salary beyond the upcoming season.
That's right — the Heat potentially were at a completely clean slate from a salary perspective beginning next summer. That's no longer the case, however, after Cole became the first to officially get locked in for the 2014-15 season.