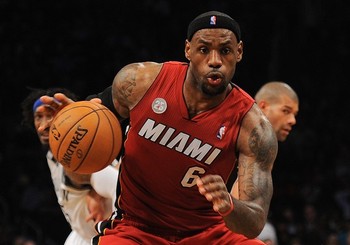 LeBron James is coming off of back-to-back NBA titles and consecutive regular season MVP awards, while being widely recognized as the best basketball player on the planet.
That last part was recently hammered home from a global popularity standpoint, as well.
LeBron topped the league's worldwide jersey sales list, in figures released on Wednesday.
From Tim Reynolds of the Associated Press:
The Miami Heat star and four-time league MVP tops the NBA's global list of jersey sales for this past season, according to numbers released Tuesday. James — who also has the top-selling jersey in the United States — outsold Derrick Rose of the Chicago Bulls, Kobe Bryant of the Los Angeles Lakers, Kevin Durant of the Oklahoma City Thunder and Heat teammate Dwyane Wade for the No. 1 spot.

James said having the world's top-selling jersey "means everything" to him.

"To know that so many people look up to me, so many kids, that's what means more than anything, that I continue to inspire the youth and they look at me as a role model," James said after learning the news at Heat training camp in the Bahamas. "I understand, when you wear someone's jersey, you actually like believe in them. You believe they can do supernatural things. It's like an extension of our family and I really appreciate that."
The fact that Rose finished second when he hasn't played a game in almost 18 months is fairly insane, but adidas has done a nice job of keeping him in the public eye with a series of captivating video spots, along with taking Rose on an international tour this past summer.
But this is about James, and his ability to transcend rivalries and team rooting interest to be the global face of the game, perhaps more than anyone else.
Here's the full list of the players who finished in the top 15:
1. LeBron James
2. Derrick Rose
3. Kobe Bryant
4. Kevin Durant
5. Dwyane Wade
6. Carmelo Anthony
7. Dwight Howard (Lakers edition, R.I.P.)
8. Deron Williams
9. Blake Griffin
10. Rajon Rondo
11. Steve Nash
12. Chris Paul
13. Russell Westbrook
14. Kevin Garnett (Celtics edition, R.I.P.)
15. Joe Johnson
Rose, Bryant, and Durant are among the players who will be playing preseason games internationally in the coming weeks.